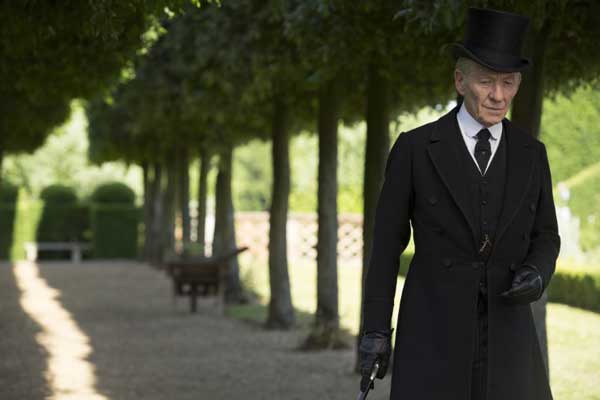 My acting stopped being about disguise and became about truth which suits the camera, so my film career took off when I came out." – Ian McKellen
Sir Ian McKellen currently stars in Mr Holmes, a film about an aging Sherlock Holmes who struggles to come to terms with his memory loss. At 76, the actor is lucky enough to not have to deal with such a plight, but he can empathize.
"I've known people like that, friends and family, and it's part of everyday life as you get older measuring your own reactions to things and wondering how long it will be till you can't remember what on earth they're talking about," he says. "So it wasn't a hard puzzle. You look into yourself and other people. It's not painful to do that. I played King Lear who is a more extreme example of someone who is losing it."
As McKellen says, it's all about learning to work with what you have, as he had to do once when he lost his voice right before a one man performance.
"One-man show, nobody has to come on, audience couldn't hear a word I was saying," he says. "I laid down and did some voice exercises but I wasn't embarrassed. A friend said afterwards, 'It was wonderful because you felt so at home.'…If something goes wrong with myself, I don't disguise it. We put a microphone on me eventually and I got through but I think I rather enjoyed it."
"So I carry on," McKellen, says, explaining that he never considered cancelling the show. "So there we are and I think that's the spirit which gets you through any performance — something goes wrong, it's a bit of a challenge, [but] collectively you can put it right."
Openly gay, McKellen served alongside Sir Derek Jacobi as a Grand Marshall for New York's Pride parade this year, which came the day after marriage equality was legalized across the U.S. A momentous occasion and one for great celebration but McKellen recalls a time growing up when it was impossible to be so open about your sexuality.
"You just thought this was the way it was supposed to be," he says. "I didn't feel put on or disadvantaged, just this is how it's meant to be. I suppose in a more extreme situation, that's what slaves must have thought, they couldn't see a way out of it, this was it.
"I had the compensation of acting and escaping into a world where I didn't have to worry. I didn't have to disguise because the whole conceit was a pretend reality. I think that's why such a lot of successful actors are gay. They couldn't cope with the real world, weren't allowed to show their real emotions so they escaped into a pretend world."
McKellen credits his public coming out in 1988 with making him a better actor, since he could finally bring truth to his performance.
"I became a better friend, a better son, better brother, better uncle, better traveler, certainly a better actor," he explains. "My acting stopped being about disguise and became about truth which suits the camera, so my film career took off when I came out."
Source: NY Daily News