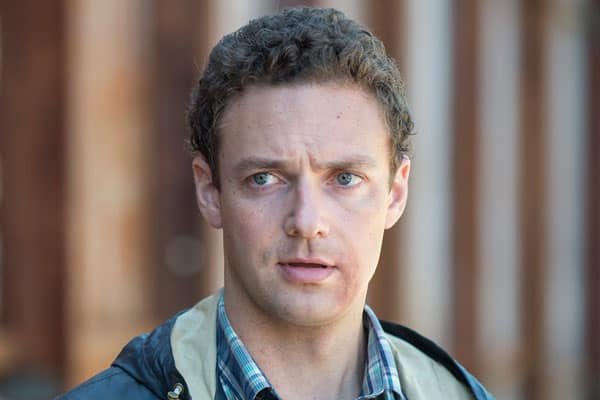 Caution: If you are one of the few people who have yet to see Avengers: Infinity War, spoilers ahead!
"I had gotten the breakdown, and I said, "Okay, let's go over this a million times." – Ross Marquand
Of all the surprises in Avengers: Infinity War, the 19th and biggest film in the Marvel Cinematic Universe, the biggest surprise was the appearance of a character who hadn't appeared in an MCU film since 2011's Captain America: The First Avenger — Captain America's arch enemy The Red Skull. While Hugo Weaving played Red Skull in that film, he was replaced in the role in Avengers: Infinity War by The Walking Dead actor and impressionist Ross Marquand. In an interview with Entertainment Weekly, Marquand spoke about how he was chosen to take over the Red Skull role from Weaving and what he tried to do similarly and differently from Weaving's characterization.
Speaking on what Marvel Studios was looking for in his performance, Marguand reveals:
The biggest thing that Marvel wanted to do was come as close to the iconic role that Hugo Weaving portrayed seven years ago and pay homage to it while also giving it a new flavor. Once Red Skull touched the Tesseract, he goes into this intergalactic astral plane for 70 years. And as the Russo brothers pointed out to me — because I was trying to do a straight voice match to Hugo's performance — they said, "You know, he's been by himself essentially in this intergalactic prison of his own making for 70 years. He's going to sound a little different. We want him to have this kind of ethereal almost ghost-like quality to his voice, so please try that." I think the reference they might have given is Yoda-esque. His ambition has brought him this great pain, but also this great wisdom, and I think that's what I tried to imbue that performance with.
Marquand then went into detail about how much work went into nail his performance as Weaving's version of Red Skull:
It was about a week and a half. I had gotten the breakdown, and I said, "Okay, let's go over this a million times." And, of course, I went over the source material in Captain America: The First Avenger and watched that over and over again. For me, it was a matter of melding his iconic performance in The Matrix with the German accent he brought to the character with Red Skull.

Once I felt I had a good handle on it,  I sent in my audition, and we had just finished season 8 of The Walking Dead. I had flown back to L.A., and then almost as soon as I got off the plane, my manager called and said, "You got the part! You got to get back on a plane to Atlanta." And I was like, "Oh, hilarious. I just left there." So I got right back on a flight, and it was just a day of shooting.
When asked by the interviewer what he wanted to convey in his performance as Red Skull, Marquand thought about how the 70 year exile would've affected the Nazi villain. He says:
I think the main thing I wanted to get across is that this Red Skull is quite remorseful. He does feel a certain degree of shame and loss, and he's conquered by his own ambition, really. It's very much like Icarus; he flew way too high — literally because he touched the Tesseract and got launched into space — and he got way too ambitious and lost sight of his humanity, and now he feels genuinely remorseful about that. And there is kind of a forlorn energy to him. It was coming across in the dialogue, and I just really wanted to honor that.