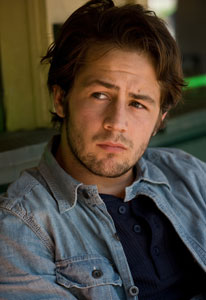 As one of the most gifted actors of his generation, Michael Angarano is making his mark on Hollywood with diverse roles that have established him as a respected and sought after young actor.
Angarano recently wrapped production on Craig Zisk's "The English Teacher," starring opposite Julianne Moore, Nathan Lane, and Greg Kinnear. Angarano plays a failed playright who returns to to his hometown, and unwittingly upends the life of his former high school English teacher (Moore), who falls for him.
Additionally, he will be seen upcoming in Ramaa Mosley's "The Brass Teapot" opposite Juno Temple. The film follows a young married couple (Angarano and Temple) who are trying to break out of poverty when they find a mysterious teapot that will grant them unlimited money in exchange for someone else's suffering. The film is to be released in 2012.
Recently, Angarano starred opposite Melissa Leo and John Goodman in "Red State," which premiered at the 2011 Sundance Film Festival and was released on October 19th, 2011. Additionally, he appeared in Gavin Wiesen's "The Art of Getting By" opposite Emma Roberts and Freddie Highmore and Max Winkler's "Ceremony" opposite Uma Thurman. "Ceremony" follows a young guy (Angarano) who tries to crash the wedding of a thirty-something woman (Thurman) with whom he's infatuated. 
His breakthrough performance came in Wes Craven's "Music of the Heart," opposite Meryl Streep, in 1999. Shortly after, he starred in Cameron Crowe's Academy Award® nominated film Almost Famous opposite Frances McDormand, Kate Hudson, Billy Crudup, Zooey Deschanel and Patrick Fugit. Angarano played the role of young William (Patrick Fugit's character) and shared many of his scenes with acclaimed actress Frances McDormand.
Angarano's other film credits include Jared Hess' "Gentlemen Broncos" opposite Sam Rockwell and Jemaine Clement; David Gordon Green's "Snow Angels" opposite Sam Rockwell and Kate Beckinsale; Rob Minkoff's "The Forbidden Kingdom" opposite Jackie Chan and Jet Li; Catherine Hardwicke's Lords of Dogtown opposite Heath Ledger and Emile Hirsch; Mike Mitchell's Sky High opposite Kurt Russell and Kelly Preston; Brad Gann's Black Irish; Alex Steyermark's One Last Thing opposite Cynthia Nixon; Thomas Vinterberg's Dear Wendy; Gary Ross' Seabiscuit opposite Tobey Maguire and Jeff Bridges; David Evans "The Final Season" opposite Sean Astin and Rachael Leigh Cook; and Michael Schroeder's "Man in the Chair" opposite Christopher Plummer.         
On television, Angarano appeared in a four-episode arc on FOX's hit drama 24 opposite Kiefer Sutherland. He also guest starred on NBC's Emmy® winning comedy Will and Grace as Elliot', the son of Jack McFarland (Sean Hayes). Angarano's other television credits include E.R., CSI, "Less Than Perfect," Summerland, and Kevin Hill.
Angarano was born in Brooklyn, New York and currently resides in Los Angeles.
Biography courtesy of Relativity Media. Haywire opens Jan. 20th.