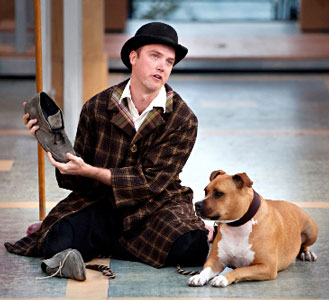 We love our dog acting stories here at Daily Actor, and this is one of the better ones: the breakout star of the Lake Tahoe Shakespeare Festival is Michael, a deaf pit bull who stars in The Two Gentlemen of Verona.
Michael stars as Crab, the apathetic dog owned by Launce, played by Kevin Crouch, and has won audiences over with his uncontrolled reactions to Launce as his owner extolls his misery.  Though Michael only spends about fifteen minutes on the stage, he has apparently become the most memorable aspect of the performance.
There's an even more heartwarming element to the story: Michael was set to be euthanized after being discovered in July 2006 in Reno and went unclaimed.  Michael is now owned by Michelle Okashima, who expresses shock that her dog was chosen for the part, saying, "What are the odds they would pick a pit bull?  All the time they face rejection in our society. I was shocked he got the part. I really appreciate the fact they gave him a shot."
When he's not performing on stage two or three times a week — Michael shares the role with another dog — he works as a therapy dog and raises money for cancer research.  So what does it say about people when Michael has a busier schedule than most of them?
via The Associated Press/Yahoo!  The Lake Tahoe Shakespeare Festival runs through August 26.