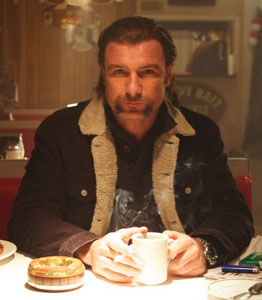 Considered one of the finest actors of his generation, Tony Award winner Liev Schreiber's versatile repertoire of portrayals continue to garner him nominations and high praise in film, television and theatre.
This year, he received his third Tony nomination for his role in Arthur Miller's "A View From the Bridge" alongside Scarlett Johansson. Schreiber recently starred opposite Angelina Jolie playing a rigid CIA boss in director Phillip Noyce's highly anticipated Salt.
He was also recently seen in Richard Levine's Every Day, which debuted at the 2010 Tribeca Film Festival, opposite Helen Hunt; Miguel Sapochnik's Repo Men with Jude Law and Forest Whitaker; and Ang Lee's Taking Woodstock, opposite Emile Hirsch. Schreiber's many feature credits include X-Men Origins: Wolverine, opposite Hugh Jackman; Edward Zwick's Defiance, with Daniel Craig and Jamie Bell; John Curran's The Painted Veil, with Edward Norton and Naomi Watts; Jonathan Demme's The Manchurian Candidate, opposite Meryl Streep and Denzel Washington; Phil Alden Robinson's The Sum of All Fears, with Ben Affleck; James Mangold's Kate & Leopold, also with Hugh Jackman; Michael Almereydea's Hamlet, as Laertes to Ethan Hawke's Hamlet; Tom Gilroy's Spring Forward, opposite Ned Beatty; Norman Jewison's The Hurricane, also with Denzel Washington; Tony Goldwyn's A Walk on the Moon, with Diane Lane; Greg Mottola's The Daytrippers; Nora Ephron's Mixed Nuts; and Wes Craven's Scream trilogy.
His portrayal of Orson Welles in Benjamin Ross' RKO 281 brought Schreiber Emmy and Golden Globe Award nominations. His other telefilm credits include George C. Wolfe's Lackawanna Blues and John Erman's The Sunshine Boys, opposite Woody Allen and Peter Falk. As one of the documentary medium's foremost narrators, he has lent his voice to such works as Mantle,:03 from Gold, A City on Fire: The Story of the '68
Detroit Tigers, Nova, and Nature. His performance as Ricky Roma in the 2005 Broadway revival of David Mamet's "Glengarry Glen Ross," directed by Joe Mantello, earned him a Tony Award. He was again a Tony nominee for his portrayal of Barry Champlain in the 2007 Broadway revival of Eric Bogosian's "Talk Radio," directed by Robert Falls, Other stage work includes the Public Theater's Shakespeare in the Park production of "Macbeth," in the lead role opposite Jennifer Ehle, directed by Moisés Kaufman; "Iago,"  "Hamlet," "Henry the V" and "Cymbeline." In 2005, Schreiber made his feature directorial debut with Everything is Illuminated, which he also adapted from Jonathan Safran Foer's bestselling novel of the same name. The film, starring Elijah Wood and Eugene Hutz, was named one of the year's 10 Best by the National Board of Review.
Filmography courtesy of Magnolia Pictures and Goon