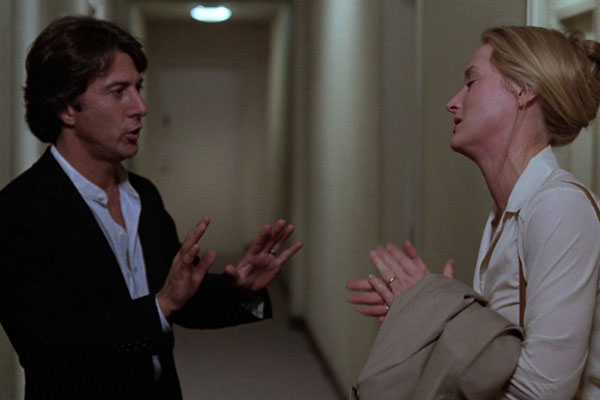 Dustin Hoffman is a renowned method actor, after studying at the Actors Studio in the 1960's. The process has certainly served him well; the actor has had a long and distinguished career, and is held in high regard by his co-workers and peers. His talent has also won him multiple award nominations, including 13 Golden Globes (winning 6), and seven Academy Awards, winning the coveted Best Actor Oscar twice; for Rain Man (1989), and Kramer vs. Kramer (1980).
His work on Kramer vs. Kramer is considered to be one of his strongest roles (among many), and his performance opposite Meryl Streep truly marks the film as a classic. Streep is also exceptional and together, the pair really capture the heartache and pain that can be associated with a divorce. At the time of filming, both actors were going through tough times in their personal lives, too. Hoffman was going through a divorce himself, and, like his character Ted Kramer, he was also realizing the impact this would have on his children.
Meanwhile, Streep was dealing with the death of her boyfriend of two years, actor John Cazale. According to Michael Schulman, the author of the Streep biography, 'Her Again: Becoming Meryl Streep', Hoffman decided, in true method style, that the pain Streep was enduring would help elicit a better performance for the movie, and he decided to capitalize on that.
Director Robert Benton and producer Richard Fischoff recall: "While filming the first scene, right before their entrance, he [Hoffman] slapped Streep hard across the cheek, leaving a red mark. Later in the scene, while he was off-screen, he started taunting Streep about Cazale, jabbing her with remarks about his cancer and his death. "He was goading her and provoking her," Fischoff recalled, "using stuff that he knew about her personal life and about John to get the response that he thought she should be giving in the performance.
Before filming the emotional courtroom scene Hoffman went over to Streep and, out of Benton's earshot, started whispering Cazale's name in her ear, planting the seeds of anguish before she delivered Joanna's speech on the stand."
Streep went on to win the Oscar for Best Supporting Actress for her role in the movie, so maybe Hoffman's approach worked. That said, it might not have been entirely welcome; he and Streep have never worked together on another movie. Whether it worked or not, do you think it was entirely fair of Hoffman to goad a reaction out of Streep by repeatedly reminding her of such a painful loss? Is this taking method acting a little too far, or is it entirely justified in order to make Streep more in touch with her raw emotions?
Via Huffpost/ Vanity Fair