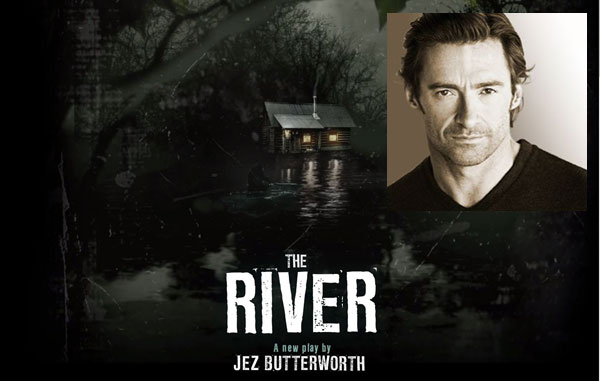 There's no denying that anytime that Hugh Jackman returns to Broadway it's a huge deal. However Jackman's next Broadway role isn't a musical, it's a Jez Butterworth one-act play titled The River. Though it undoubtedly will sell out every week, fans of Jackman's The Boy from Oz and Hugh Jackman, Back on Broadway might wonder why he isn't singing again on Broadway. He spoke to Vulture about why he decided to come back to Broadway in a one-act play and how he even wound up doing musicals in the first place.
While most Broadway fans would love to see Jackman back on Broadway in a musical instead of a play, Jackman says that at the moment that's not what he's interested in. He says, "Certainly, in general, I miss theater and want to get back more to that, but weirdly I'm enjoying film more and I think acting in general more now. There is a high when a musical is working; when you're onstage singing in front of a crowd, the applause is very visceral, it's ultimately an emotional response. The drug of that kind of audience enthusiasm is one I'd be reluctant to let go of. But I think what's driving me now more than anything is to do new material. I get really excited to go and see a play or musical I know nothing about — like I saw Fun Home recently, that thrilled me. I obviously like revivals, too, but it's hard to get your mind or part of your mind away from comparisons. There's a great joy in discovering new material."
In fact, Jackman points out that he never expected to do musicals — and many other things — in his career. He recalls, "So many things happened to me early on — for instance, it was a huge shock to me when I first did a musical in Australia, because I trained as an actor. I thought I'd do straight theater if anything. And then there were movies and it was, 'Okay, well, I didn't expect that.' But I think having done it for 15 or 20 years now, having managed to practice at it, I suppose, maybe I feel a little more confident than I did originally. Not overconfident, don't worry about that. But confident enough to look forward to the challenge and not feel overwhelmed. Maybe it's some form of midlife thing, realizing, hey, this is a great play this is New York, make the most of it. I'm just feeling a great balance between the challenge of things and also the enjoyment of it."
Jackman is actually surprised that he receives so many offers to do musicals since he was originally told that he didn't have a great voice. He reveals, "It's the most bizarre thing to me. I always think of the first singing teacher I had who my agent sent me to, Martin Croft. There was an audition for Beauty and the Beast she wanted me to go to, and I said, 'No, Penny, I'm an actor,' and she was like, 'Just go see Martin Croft, he's a performer, he's in Les Miz at the moment.' So I went to see him and we were singing and he's looking at me going, 'You sing in a weird way … you sing differently from how you speak. What music do you listen to?' And he said, it sounds like you're just copying what you hear on the radio. We worked for another three weeks, and I was getting really frustrated, and eventually he said, 'Sing it like this' and I thought, well, I'll just copy him. And he was like, 'Whoa, what was that? That's great! For the audition, copy me!' So every time we did a lesson, he'd sing a song and then we'd work on it. Just like trying to impersonate someone, that's all it was, and I literally scraped through the audition. Luckily I read first. I think they were scraping the barrel a bit, and I'm guessing I'm the only actor in history who had it in my contract that I had to have a singing lesson once a week — they hired me on the condition of the improvement of my voice."
I'm guessing that clause is no longer in Jackman's contract!