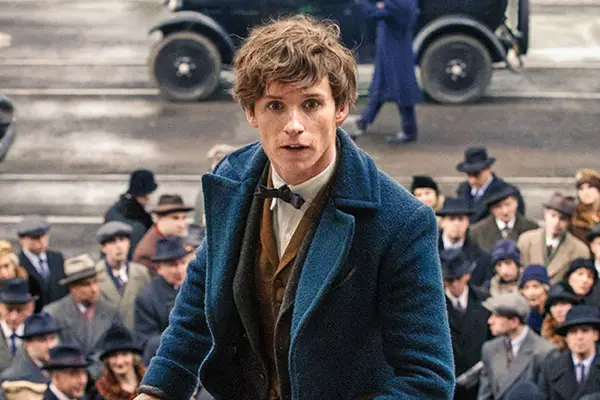 Oscar winning actor Eddie Redmayne is about to enter the magical wizarding world of J.K. Rowling's creation. The same mind that brought us Harry Potter has now written her first screenplay; Fantastic Beasts and Where to Find Them. Redmayne plays the central role of Newt Scamander, a magizoologist who will eventually (according to Harry Potter canon) go on to write the text book that carries the film's name. Harry, Ron, and Hermione eventually study Newt's work during their time at Hogwarts.
Newt's story doesn't tie into Harry Potter's though; at least, not initially. Fantastic Beasts takes us back in time, to New York in 1926, to be exact, and Newt Scamander stops off in the city on his way home from his travels. So far, so good, except Newt is carrying a magical case full of creatures that escape and cause havoc on the streets of New York. Not only that, but the catastrophe also causes problems for the magical community with the No-Maj's (the American term for Muggles). Fantastic Beasts will form the first of five movies, which will eventually focus on the dark wizard, Gridelwald, and his rise to power. Dumbledore will also feature in subsequent films.
For Redmayne, while the opportunity to become a part of the wizarding world was too good to pass up, the actor is also hyper aware of the existing Harry Potter fandom, which has never really died down in the five years since the last film was released. He admits himself to loving the original franchise and so this movie, which is relying heavily on its Harry Potter connection, is one he really wants to get right.
"Do you feel pressure? Of course you feel pressure. Also, particularly because I loved the Potter films. There was something so warming about being able to dive back into that world every year or two. And if you've enjoyed something, you don't want to be the one who comes in and screws it up. But pressure's there with every film. With The Theory of Everything it was knowing Stephen and Jane and the family would see the film. With The Danish Girl it was all the people that I'd met in preparation for the film who came from the trans community. It's pressure here of a different type, which is called hardcore fandom."
But is Redmayne making things difficult for himself? Let's face it, he's not exactly renowned for playing easy roles; Stephen Hawking in The Theory of Everything meant he had to spend his days in a wheelchair with his spine curved, which resulted in Redmayne needing an osteopath for some time afterwards. When he played Lily Elbe in The Danish Girl, he had to play both man and woman, and of course, learn all the subtle nuances of Elbe's character, too.
"I was in Budapest shooting Birdsong and Tom Hooper (director of The Danish Girl) was making a commercial over there. We went for lunch one day and Birdsong was such a rigorous shoot, incredibly intense hours, jumping between time frames, the First World War, and I said to Tom, 'This one's the hardest. This really is.' And Tom turned to me and said, 'But aren't they always the hardest?'"
That might be the case for Redmayne, who suffers terribly with nervousness, but there's no denying that his talent comes through on screen. Let's hope (for his sake and that of the Harry Potter fandom) that he will once again prove to be magical when Fantastic Beasts is released.
via The Guardian