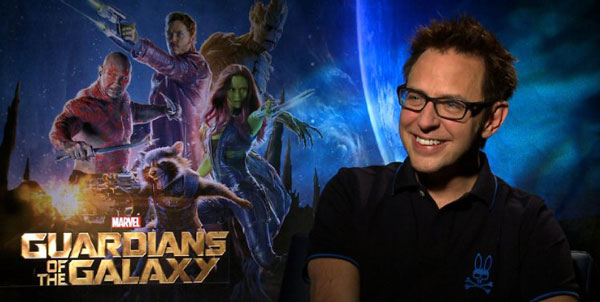 Guardians of the Galaxy is poised to become one of the biggest hits of the summer before its release date on Aug. 1. Early press screenings have proven to be successful way to pass along a strong word-of-mouth on the Marvel film.
Despite such incredible visibility and guaranteed work for actors in the Marvel franchise, it isn't always easy to get actors to sign those notorious contracts. The stars are tied to six to nine movies all at once.
Director James Gunn talked to Vulture about trying to sign Oscar winner Benicio del Toro to his movie.
He explained, "It's a difficult thing, because Benicio and I instantly connected as two artists, and that's why Benicio did the movie. In fact, he saw the movie the other day, and he wrote me a text message immediately. He was so happy, and he said, 'I'll do anything you want, anytime, anyplace,' so I hope that whoever else ends up working with Benicio on these movies, he'll have the same connection with. But you know, for some of these characters, the time commitment isn't that big, so it's not that hard. It's more difficult for someone like Zoe Saldana: She's a major character in this movie and she's got a lot to do, and she's already a big star. It's great that she signed on for something like this, and as long as I'm around, I'll do my best to take care of all of those actors."
The film also gives fans a glimpse of Thanos, one of the most evil villains of the Marvel Universe. The character is played by Josh Brolin. Gunn shared how important it was to find the right actor.
"Thanos needed to be this imposing character. He needed to have weight to him. So it was about finding the right person to fulfill that role, and we actually auditioned a lot of people for Thanos," he said. "That role really is a big commitment, because as everyone has guessed, Thanos is a big part of the Marvel universe going forward, and his role is likely to expand greatly. It was a big challenge to cast."
No matter how tough the casting challenges, the Marvel universe continues to draw the industry's biggest actors.