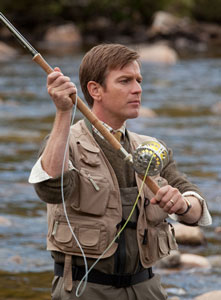 Ewan McGregor is known for successfully portraying an array of diverse characters. From his breakthrough role as the heroin-addicted Mark Renton in Irvine Welsh's Trainspotting, to the legendary Obi-Wan Kenobi in Star Wars Episode 1, to starring as "Christian" opposite Nicole Kidman in the Academy Award® and BAFTA award winning musical Moulin Rouge directed by Baz Luhrmann, McGregor has proven himself as a true actor time and again.
McGregor was recently seen as the reputable author hired to write the memoirs of controversial former British Prime Minister Adam Lang (Pierce Brosnan) in Roman Polanski's The Ghost Writer.  He also starred as the title character in the comedy I Love You Philip Morris with Jim Carrey. In 2011, he was seen opposite Christopher Plummer in Beginners. And in January 2012, he starred in the Steven Soderburgh film Haywire.
He recently wrapped Jack the Giant Killer, a modern take on the well-known fable, "Jack and the Beanstalk." McGregor also filmed The Impossible with Naomi Watts, a drama based around a true story set during and after the Indian Ocean Tsunami in 2004.
McGregor starred in the BAFTA award winning Shallow Grave as Alex Law. Shallow Grave was named Best Film at the 1994 Dinard Film Festival and the film won the 1994 BAFTA Alexander Korda Award for Outstanding British Film of the Year and the BAFTA Scotland Award for Best Feature Film.  McGregor's portrayal of Alex Law earned him the Hitchcock D'Argent Best Actor Award and a nomination for Best Actor at the BAFTA Scotland Awards, as well as laying the roots for a highly successful partnership with the director, Danny Boyle.  McGregor then went on to portray the shifty London drug-dealer Dean Raymond opposite an up-and-coming Catherine Zeta-Jones, followed by his first solo male lead in Peter Greenaway's erotic art-house film The Pillow Book.
He was reunited with director Danny Boyle in A Life Less Ordinary, with Cameron Diaz, a role which won him the Best British Actor award (for the third time running) in the 1997 Empire Movie Awards. Also in 1997, McGregor received an Emmy Award for Outstanding Guest Actor for his role in the ER episode, The Long Way Round. He also played opposite Michael Stipe in the glam rock film, Velvet Goldmine, followed by a portrayal of the infamous trader Nick Leeson and his spectacular fall from grace in Rogue Trader opposite Anna Friel. He teamed up again with Brassed Off director Mark Herman in the Golden Globe®-winning Little Voice, alongside Jane Horrocks and Michael Caine.  
Other film credits include Down With Love (2002) opposite Renee Zellweger and then Tim Burton's Big Fish (2003), alongside Albert Finney, Billy Crudup, Alison Lohman, Jessica Lange and Danny DeVito. Marc Forster's supernatural thriller, Stay, alongside Naomi Watts and Ryan Gosling, Michael Bay's The Island (2005) alongside Scarlett Johanssen, Djimon Hounsou and Steve Buscemi, the animated films Robots (Dir. Chris Wedge) and Valiant (Dir. Gary Chapman), Scenes of a Sexual Nature (Dir. Edward Blum), Miss Potter (Dir. Chris Noonan), Woody Allen's Cassandra's Dream (2008), Incendiary, The Tourist, Angels and Demons and Amelia. He also starred in Ridley Scott's Black Hawk Down and went on to film Young Adam with Peter Mullan and Tilda Swinton, for which he received a London Film Critics Circle Awards nomination.
McGregor was born in Perth, Scotland. He now currently resides with his wife and four children in Los Angeles.
Biography/Filmography courtesy of CBS Films and the film, Salmon Fishing in the Yemen