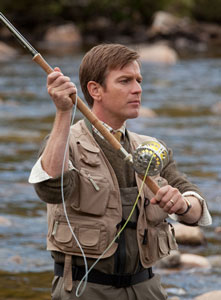 Salmon Fishing in the Yemen may already be the frontrunner for oddest movie title of 2012, but the film, which is based on the novel is not a comedy but a dramatic romance about introducing the sport of fly-fishing to a desert nation.
While that sounds impossible, you obviously haven't seen enough movies if you don't realize that many films are about making the impossible possible.  Ewan McGregor plays "Britain's leading fisheries expert," and he explains how he created his persona for the very scientific character.
McGregor did much to develop the character, which started with changing his voice.  He says, "My own voice is a little too laid back for Fred, so we made it a bit more uptight.  And there's a posh-sounding Scottish accent that's really fun to play." 
After that, however, McGregor had to move on to an even bigger challenge: learning how to fish.  He confesses, "I hadn't really done much fishing before.  I did some when I was a kid and some in (the Tim Burton film) Big Fish.  I love the idea of being outside but I'm ultimately not that interested in catching a fish…that's the trouble."
McGregor admits that his character initially doesn't believe in the far-fetched plan.  He explains, "At the beginning, Fred doesn't have any belief.  He's got a very practical mind. He is a fisheries scientist, and he's very repressed.   He's also in what his wife refers to as a 'functioning marriage.'  But then, through meeting the Sheikh [Amr Waked] and Harriet [Emily Blunt], he's brought back to life spiritually. He starts to believe in something. From where he starts to where he ends is a brilliant arc, and it's always nice to have that an as actor."
Salmon Fishing in the Yemen is now in limited release.