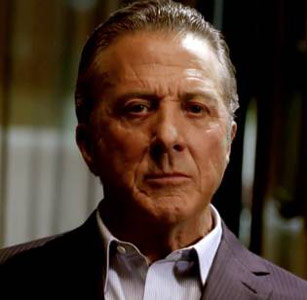 Two-time Oscar winner Dustin Hoffman has surprised many people by starring in the HBO series Luck.  Many assume that Hoffman — star of such classic films as The Graduate and Rain Man — is somehow "above" weekly episodic television, or that he's far too busy with his award-winning film roles to do a television series.
This is certainly not the way Hoffman himself views it, and in an interview with the Los Angeles Times he explains why he's starring in a TV series at this point in his career, and how his career now parallels his beginnings as an actor.
What seems to have most intrigued Hoffman about the series is the opportunity to "live" with a character longer than a film.  He says, "If you go into a restaurant, every single person there has a three-dimensional life — there's people with divorces, with cancer… There's barely a table in the place without a long story.  And that's what this piece does. I was so aware of that — whether it's Nick Nolte [who plays a grizzled horse owner], the Irish jockey or the degenerates [a quartet of roguish gamblers]. Those are three-dimensional characters who are given their time, onscreen, to reveal that dimension." 
Obviously Hoffman is joining the series after five decades of some of the most memorable film appearances in acting history, but Hoffman admits that when he was a young, starving actor in New York he would've done just about anything to land a television series role — no matter what the series!  He reveals, "I would have taken General Hospital for 20 years!  Raise a family, stay in one town…."
That's because Hoffman's early years were similar to those of many young actors, and he would have jumped at the chance at the steady work of a television series.  Of course, doubt seeped in when the work was coming, and Hoffman confesses, "There are a few of us who became actors because we were failures at our first choices.  With acting, I didn't know if I was any good — for many years — but I knew that that's what I wanted to do. I felt … more grounded when I was working. And working doesn't mean getting paid — a lot of times it was rehearsing. My roommate Bob Duvall was getting work, our friend Gene Hackman was getting work, and I was kind of the drifter."
Curiously, Hoffman, now 74, notices that like his early days he is not being offered many roles recently.  He explains, "In truth, I don't get a lot of scripts my way, the way I used to.  Leads are written for guys in their 20s and 30s, and unless you carry a gun or have a signature part like 007, you are not going to get those kinds of parts. Suddenly, you start out hoping to get supporting parts. You feel victorious if you do."
Additionally, Hoffman reveals that he is plagued by self-doubt with nearly every role he acts in, as he knows how difficult it is for an actor to recover from bad roles.  In fact, he express amazement at actors who believe every role they are in will be a hit.  "I've never understood people who go into [an acting job] thinking it's gonna work. They don't look at the stats. If you're a baseball player, one out of five ain't bad. And yet people in this business think they're gonna get four for four, or something."
Though Hoffman might doubt himself, it's clear audiences never have — he remains one of the most respected actors in Hollywood.