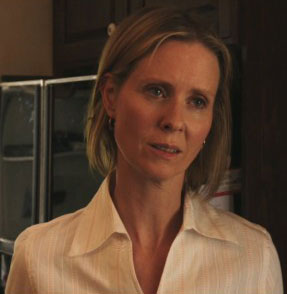 Emmy and Tony Award-winner Cynthia Nixon has been a critically acclaimed and sought after actress since the age of twelve.
Nixon can currently be seen in a guest-starring role on Showtime's critically acclaimed hit "The Big C" opposite Laura Linney as well as the current Broadway production of Wit. She is also in production on Curtis Hanson's "Too Big to Fail" for HBO. Nixon will play Michele Davis in a story about the collapse of Wall Street and the financial crisis of 2008 in which a group of powerbrokers decide the fate of the world's economy in a matter of a few weeks. The telepic also stars James Woods, Paul Giamatti and William Hurt.
The actress most recently starred in the sequel to New Line's 2008 summer blockbuster Sex and the City: the Movie. She also recently played in Richard Laxton's An Englishman in New York opposite John Hurt. Prior to that, she appeared in Derick and Steven Martini's film Lymelife along with Alec Baldwin and Timothy Hutton. She played opposite John Leguizamo in The Babysitters, which premiered at the 2008 Tribeca Film Festival. Prior to that, Nixon was seen in New Regency's feature Little Manhattan as well as in Alex Steyermark's One Last Thing, which premiered at the 2005 Toronto Film Festival and was screened at the 2006 Tribeca Film Festival. The actress portrayed Eleanor Roosevelt opposite Kenneth Branagh's Franklin Roosevelt in HBO's Warm Springs. This role earned Nixon a Golden Globe nomination, a SAG Award nomination, and an Emmy nomination. In 2004 she starred in the mini-series Tanner on Tanner, directed by Robert Altman and written by Garry Trudeau, a sequel to Tanner '88.
For six seasons Nixon starred as Miranda Hobbes in HBO's much celebrated series, Sex and the City, a role that garnered her an Emmy Award in 2004 for Outstanding Supporting Actress in a Comedy Series, two other Emmy nominations, and four consecutive Golden Globe nominations. Nixon was honored with the 2001 and 2004 SAG Award for Outstanding Performance by an Ensemble in a Comedy Series.
Nixon was most recently seen onstage as "Mama" in Lisa Loomer's Off-Broadway play Distracted, directed by Mark Brokaw for the Roundabout Theatre, for which she earned a Drama League nomination. Prior to that she performed the title role of The Prime of Miss Jean Brodie.  In 2006, the actress completed a successful run in the Manhattan Theatre Club production of David Lindsay-Abair's Pulitzer Prize winning play Rabbit Hole, winning the Tony Award for Best Actress, a Drama League nomination and an Outer Critics Circle Award nomination. Prior to that, she performed on Broadway as Mary Haines in The Roundabout's revival of The Women, which was also broadcast on PBS' Stage to Screen series. Nixon won a Theatre World Award at the age of fourteen for her stage debut as Dinah Lord in Ellis Rabb's production of The Philadelphia Story at Lincoln Center's Vivian Beaumont Theatre. At fifteen, she was directed by acclaimed filmmaker Louis Malle in the title role of John Guare's Lydie Breeze. Most remarkably, at age eighteen, she appeared simultaneously in two Broadway productions, David Rabe's Hurlyburly and Tom Stoppard's The Real Thing, both directed by Mike Nichols.
Nixon began her film career at age twelve with Little Darlings and went on to appear in such films as Prince of the City, Amadeus, O.C. & Stiggs, The Manhattan Project, Let it Ride, Addams Family Values, The Pelican Brief, John Hughes' Baby's Day Out, Marvin's Room, The Out-of-Towners, Igby Goes Down, and Advice from a Caterpillar, based on the play by the Douglas Carter Beane.
She has most recently appeared on network television in guest-starring roles on Law & Order: SVU, a role which earned her an Emmy Award for Guest Actress in a Drama Series. Additional credits include House, ER, and Papa's Angels. In 2009, Nixon was awarded a Spoken Word Grammy for her recording of Al Gore's An Inconvenient Truth.
Born and raised in New York City, Nixon attended Hunter College High School and has a degree in English Literature from Barnard College. She and her fiancé Christine live in New York City with their daughter, Samantha, and son, Charlie.
Filmography courtesy of Millennium Entertainment and Rampart