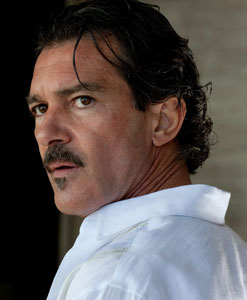 ANTONIO BANDERAS is one of the leading international actors of his generation. Since his introduction to American cinema in the highly acclaimed Mambo Kings, Banderas has received critical praise for his performances in film, television and theater. In 2005, he was honored with a star on the Hollywood Walk of Fame. He was most recently seen in the moody thriller The Skin I Live In, directed by his longtime collaborator Pedro Almodóvar.
For his performance in Alan Parker's Evita, opposite Madonna, Banderas received his first Golden Globe nomination for Best Actor. He earned his second for Martin Campbell's The Mask of Zorro, opposite Catherine Zeta-Jones, and his third for HBO's 2003 telefilm "And Starring Pancho Villa as Himself," in the title role.
Banderas stole the show in the 2004 blockbuster Shrek 2, as the voice of "Puss in Boots." He reprised his role in the sequels Shrek the Third and Shrek Forever After as well as in his own Puss in Boots film, an international hit. 
Banderas has worked with some of Hollywood's best directors and actors. He starred in Robert Rodriguez's Desperado, with Salma Hayek, and its sequel Once Upon a Time in Mexico, opposite Johnny Depp. For the crime drama The Code, he worked with Morgan Freeman and on The Other Man he teamed up with Laura Linney and Liam Neeson. Banderas also starred in Original Sin, opposite Angelina Jolie; Neil Jordan's Interview with a Vampire, with Tom Cruise and Brad Pitt; Jonathan Demme's Philadelphia, opposite Tom Hanks and Denzel Washington; Bille August's House of the Spirits, with Meryl Streep and Glenn Close; Brian de Palma's Femme Fatale, with Rebecca Romijn; and Woody Allen's You Will Meet a Tall Dark Stranger, with Naomi Watts, Anthony Hopkins, Josh Brolin and Freida Pinto.
Other film credits include the Spy Kids trilogy, Miami Rhapsody, Four Rooms, Assassins, Never Talk to Strangers, Two Much, The 13th Warrior, Play it to the Bone, Ballistic: Ecks vs. Sever, Take the Lead and The Legend of Zorro.
Banderas' second directorial feature is the Spanish film El Camino De Los Ingleses (titled Summer Rain in the U.S.). A coming-of-age story, the film follows the first loves, lusts and obsessions of friends on vacation at the end of the 1970s. He made his directorial debut with Crazy in Alabama, starring his wife Melanie Griffith.
Born in Malaga, Spain, Banderas attended the School of Dramatic Arts in his hometown. Upon graduation, he began his acting career working in a small theater company. He later moved to Madrid and became an ensemble member of the prestigious National Theater of Spain.
In 1982, Banderas was cast by acclaimed filmmaker Pedro Almodóvar in Labyrinth of Passion.  They went on to make Matador, Law of Desire, Women on the Verge of a Nervous Breakdown and Tie Me Up! Tie Me Down! 
In 2003, Banderas earned a Tony Award® nomination for Best Actor in a Musical for his Broadway debut in the Roundabout Theater Company production of "Nine," a musical inspired by Federico Fellini's classic film 8 ½. Banderas also received a Drama Desk Award, Outer Critics Circle Award, Drama League Award and Theatre World Award. 
Biography courtesy of Relativity Media. Haywire opened on Jan. 20th..