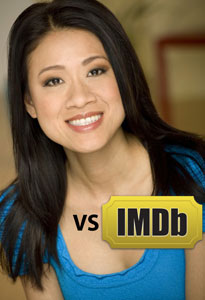 In the court case that has caught the interest of actors everywhere, the actress suing IMDb for revealing her age — Huang (Junie) Hoang, who was required to reveal her identity to proceed with the lawsuit — will have her day in court.
The expected one-or-two day proceedings will begin on January 7, 2013.  The discovery process will last until August 10, after which the two sides will meet to decide whether the case will proceed.
Amazon.com, which owns IMDb, specifically states in its privacy policy that if you sign up you agree to allow it to use "your name, e-mail address, physical address, zip code, and phone number; your age and gender; the movies and actors you like or dislike; and your general movie preferences" to help in "improving our site."  Hoang claims IMDb mined her birth date from her credit card information when she signed up from IMDbPro, which Amazon dismisses as "speculation."
The question, of course, is whether or not her age being posted on the website affected her career adversely resulting in her mostly appearing in small roles in low-budget movies with titles like My Big Phat Hip Hop Family, Gingerdead Man 3: Saturday Night Cleaver, and Z: A Zombie Musical, or if she simply just hasn't broken through to more successful features because of other reasons.
 The SGA and AFTRA have come out in support of Hoang — specifically citing the rampant age discrimination, especially toward women, that has been part of showbiz decades before IMDb even existed as a factor (which, if you think about it, isn't exactly placing the blame on IMDb).  
Perhaps if the 40 year-old actress can demonstrate that there has been a significant drop-off in the quality and quantity of roles she has been offered since IMDb posted her age she might have a stronger case.