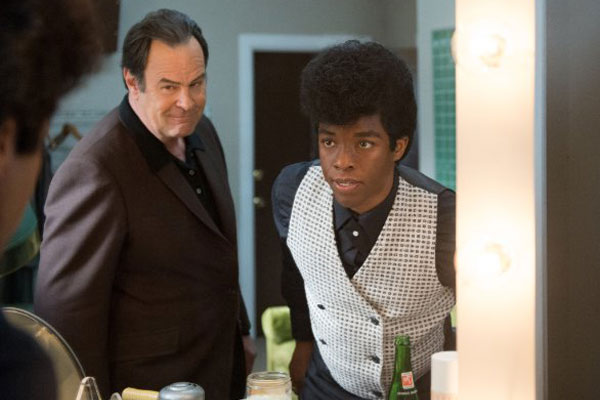 There are tons of articles out there for actors learn effective ways to crack into the entertainment business, but other jobs in the industry are a well-kept secret. Now, two casting directors are offering their advice to learn their trade. Paul Schnee and Kerry Barden, who cast the James Brown biopic Get On Up, give some insider tricks to the casting business.
Barden advised that it is important to understand actors.
"Most of the people in my office started from acting so we have a good idea of what actors are going through," he said.
The duo had to cast the role of the "Papa's Got A Brand New Bag" singer and they knew it wasn't an easy task since he's such an iconic figure. The role eventually went to Chadwick Boseman.
"We had a James Brown search for a couple of months before we started casting for the other roles. It was a long process. Part of the process was finding someone who could move like James," Barden explained.
"Chadwick was a choice because I thought he was a incredible actor but I didn't know his body of work at the time. I didn't know if that was the right person or not, but the more we worked with him the clearer it became," he said. "We really did strike gold. He was one actor that could cover the 20-year age span that we cover in the film. We got really really lucky."
Schnee added, "We read a fair number of guys before casting an unknown, but for me it only takes one key audition."
Another strong quality a good casting director has is instinct.
"It's that instinct that you have to have with actors where there's something special about them. It's there with a lot of actors I know who are just living in a space of honesty," Barden said. "It's something Meryl Streep does very well. It's not that they disappear into the character but they make the character live. It's honest and authentic and compelling."
The job is exciting because you can introduce fresh talent to the world. That is the thrill of the gig.
"You can help people realise their dreams. Every actor is looking for a job when they come into my office. It can be a springboard to a bigger career. That part of it is very satisfying," he shared. "It's also a lot of fun to be able to work with actors and help somebody get a job. It's part of what makes me enjoy coming to work every day. I've been doing this for twenty years and I still love it. It's a joy to do."
Schnee summed up, "Kerry and I did have a hand in discovering Jennifer Lawrence with Winter's Bone, so yes. When she read in L.A. I had a very sixth sense feeling that this might be our girl. There was something about her first audition that really stuck out. It's very exciting. Putting someone who isn't on the radar out into the public is a great feeling."
Via Metro