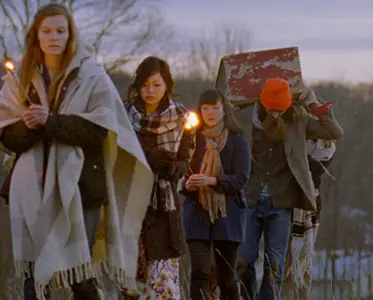 I've been seeing some great films at the Tribeca Film Festival, and while I'm under an embargo not to talk about most of them I will pass on one word if you plan on seeing First Winter: Don't.
But as it turns out, I am not the only person who isn't a fan of the movie, which is about several Brooklynites who are are enjoying the sex, drug, organic food, and yoga of their communal cabin in the woods until the outside world seems to collapse and they are without electric, water, or heat. 
According to New York news site DNAinfo.com, the writer/director Benjamin Dickinson and his actors will potentially face legal ramifications for killing two deer during the shoot in upstate New York, which appears in the film.  They then proceeded to skin and cook one of them on camera.
Not only did the cast and crew lack a permit for hunting, but they used an unlicensed gun and didn't even shoot the deer during deer season. "We are idiots. We didn't know how to do this [hunting] stuff," Dickinson says (the article misidentifies him as "Dickson"), adding, "There were so many deer weak from the winter and getting eaten by local dogs we didn't even think about it."  Personally, though I'm no expert on deer, I know deer naturally look weaker in the winter because of depleted food supplies so that's not much of an excuse.  Also, there's obviously a huge difference between dogs killing deer for survival than humans shooting a deer for a movie.  Circle of life and all that.
Dickinson and his cast and crew actually lived in the cabin during the twenty-three day shoot, and originally thought the scripted hunt scene would have to be dropped when they didn't have much luck hunting.  However, when they were finally successful in hunting the deer they killed one and wounded another, and they were compelled to put the second deer out of its misery.  Obviously this low-budget film — most of the funds were raised on Kickstarter — didn't have representatives from the American Humane Association on set.
The New York State Department of Environmental Conservation is currently investigating the matter.  I'm not sure if the DEC has the power to ban the group from making future movies, but I have my fingers crossed.