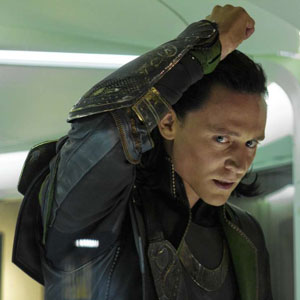 After playing Loki in Thor, Tom Hiddleston tells NBC New York that portraying the evil Norse god in The Avengers was both challenging and exciting.
Despite having previously played Loki, the affable Hiddleston admits it's sometimes difficult to play such a diabolical villain.  He points out, "Sometimes, it's really hard, especially when you get up in the morning feeling in a good mood, and that sort of innate contentment is of absolutely no use to you, because you're having to stoke the bonfires of anger and sadness and despair and all that stuff."
Though Hiddleston again worked with his on-screen brother Chris Hemsworth, working with all the Marvel superhero actors made The Avengers a unique experience in ensemble acting.  He explains, "Making the movie felt like a real team game. Ultimately acting is like tennis: you can't do on your own. It's what happens when you're playing a rally, that's when it's exciting. If I can extend that metaphor, there are some really good tennis players on this film. They make you better. It's lovely. With Chris, we knew that we had a really, really good chemistry. We completely trust each other, and so when you get on set you just can instinctively get into it really fast. We connected on such a quick level. [Writer/director] Joss [Whedon] was really sweet. On the first scene we shot, it was the scene between the two of us on the mountaintop. At the end of that day he said, [Thor director] 'Ken [Branagh] told me this and it really is true. You make each other better.' I thought that was just a lovely thing to say about two actors who get on."
However, Hiddleston didn't just work well with Hemsworth but also with his other superhero adversary actors.  He says, "But then doing the scenes that I have with Scarlett [Johansson] and Robert [Downey Jr.], that was great. I had so much fun with them because that's a new chemistry and a different chemistry because you can never play the same rally. It's a different thing every time, so it's really exciting."
Hiddleston has quite the task of standing up to a team of the mightiest superheroes on screen… so thank goodness he got along with them off-screen!