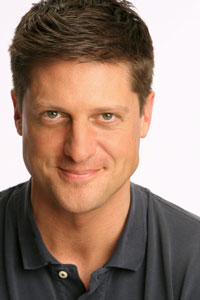 Christopher Sieber, the two-time Tony Nominee (Spamalot, Shrek) is currently on tour as Albin in La Cage aux Folles and if he's not perfect in the role, I'm not sure who could be. I saw him in the show and his performance alone is worth the price of admission; he's quick, funny, sings the hell out of Jerry Herman's songs and will make your heart sag at some points. If the show is coming to your town, definitely grab some tickets.
Christopher isn't new to La Cage, he actually starred in the Broadway run as Georges, the role that the great George Hamilton is performing on the tour. He told me that even though playing Albin/Zaza is showier and exhausting, the part is "just so much fun." And you can tell when he's on stage that he's having a blast doing it. 
Christopher and I talked about the tour, working with George Hamilton, his Tony Nominations and being thrust into the Broadway run of La Cage with only 7 days of rehearsal. You'll definitely want to check this interview out!
La Cage aux Folles is now playing in San Diego. Next up: Las Vegas, Kansas City, Denver. For Tickets and more tour dates, click here
For the full interview, click the audio link above or download it from iTunes
You've been on tour for a year now?
Christopher Sieber: Yeah, we've been… it's coming up on a year now.
Man.
Christopher Sieber: Yeah, I know. And we end in November in Toronto.
Do you enjoy the touring life?
Christopher Sieber: It's… you know what? I do and I don't. Yes, I do because you get to go to cool cities around the country and you get to see the country and other places and do it while you're getting paid, and that's cool. And you get to, you know, eat at cool restaurants that aren't in New York City.
So the hardest part is though is every city you finish one city, you have to pack up, pack up all your stuff, go to the new city, and then it's always about a race to find food. And so you're always foraging for food it seems because, you know, you can't travel with things so you kinda have to dump everything and just start all over again every week, every 2 weeks.
How often do you get back home?
Christopher Sieber: Well our tour is pretty cool because George is 72, we had some built in breaks. So we usually do about 6 weeks and then we have usually a week off. So that's really nice. So we do 6 weeks on and then one week off. And so it's actually not bad. It's not terrible where you're just constantly going and going and going and going and going. So it's nice. So about every 6 weeks.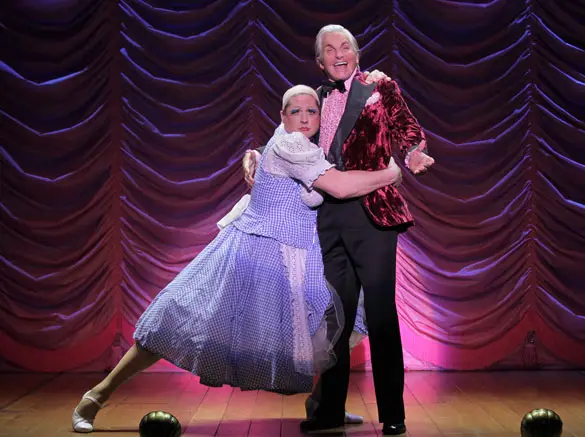 When you get to the theatre, how long does it take you to get into your makeup and costume?
Christopher Sieber: I am there an hour prior to the show. And once I start I don't stop until I'm out of it. It's about 3 and a half hours of nonstop. Every single performance. It's a lot, you know, you never leave stage. I mean, when… the part of Albin/Zaza, you never leave stage. You're always on. And if you're backstage, you're changing costumes, waiting for makeup and jewelry and shoes. And so you never stop. So it is a… let me tell ya, it's the best weight loss program I've ever been on.
When you go off stage, are you… you know in The Avengers when Tony Stark is walking and the iron just gets on him? Do you just like hold your arms out and people just like change your clothes?
Christopher Sieber: Yeah, I've got… yeah. Yeah, I've got a… I call them Team Zaza. They… it's like my pit crew. They're awesome. My dresser Michael Lewis, my wig and makeup Paul Bigot, and then we get a local dresser every city we're at. And yeah I have 3 people to jump on me and make me kinda look pretty? Kinda pretty? I'm not pretty. I'm not a pretty girl, I won't lie. My dad told me, I'm from Minnesota and my mom and dad came to see a show and after the show dad put his arm around me and says, "You know what? You're a hideous woman." I said, "Dad, I wasn't trying to be pretty, ok?"
I wore heels when I did the Rocky Horror Show a while back. I had to wear heels for one scene, and I was constantly afraid of falling flat on my face. How long did it take you to get used to even dancing in those?
Christopher Sieber: Well I was born in heels. No, I… the shoes that I have are made for me. So they're actually not too bad. They're actually a really wide heel meant for dancing and trudging around the stage, so they're really stable. Thank God I didn't have spikes or something. I did Hairspray and played Edna Turnblad in Hairspray a couple, I don't know, a couple years ago for Paper Mill Playhouse in Millburn, New Jersey. And they gave me spikes, 3 and a half inch spike heels, and…
Woah!
Christopher Sieber: Yeah. Yeah! And then I had to do that number 'Big House' where there was tapping in it. I'm like, "You want me to tap in 3 and a half inch spike heels? You're crazy!" But, you know what? I did it.
Did you?
Christopher Sieber: Yeah and I didn't hurt myself. And I was good.
You played Georges in La Cage on Broadway.
Christopher Sieber: Yeah.
And I read a story of not only how you got the part but how you were thrown in and you had a week of rehearsal and just reading that story…
Christopher Sieber: 7 days. 7 days.
…my heart was just beating.
Christopher Sieber: Yes. Yes. It's crazy. I never expected ever to be in this show. I was gonna go back into the show Chicago on Broadway playing Billy Flynn which I had done twice before, and I was in line. I was gonna… it'd been 7 years. And I was at the box office of Chicago because I wanted to re-familiarize myself with the show because I hadn't seen it in 7 years, I hadn't done it. So I was like, "I don't really remember anything." And I was in line at the box office and then my phone rings, and my agent says, "Oh, they don't want you to see Chicago today, they want you to see La Cage." I'm like, "Well, ok. That's kind of a weird way to learn Chicago, but ok. I'll go."
And my friend Harvey [Fierstein] was playing Zaza across the street. And I said, "Let's go." And so I went and saw the show and Harvey was terrific of course and he's been a friend of mine for 20 years. And so after the show I go back to his dressing room, he pulls me in his dressing room, he closes the door, he says, "Are you gonna do the show?" I was like, "What?" "Are you gonna do the show? I want you to do the show with me." "What show? What are you talking about?" "This one. La Cage." "What are you talking about?"
I had no idea that Jeffery Tambor had just up and left. He had some hip issues and he just, he had had it. He had had it. So he just up and left on a Friday and they… this was Sunday morning. Yeah, it was about Sunday at noon. They called me and they offered me the part. And I said yeah. So they called me Sunday and said, "We'll deal with that." And then Monday the deal was done, we started rehearsal, and then like the following Tuesday or Wednesday I was in the show. 7 days later.
My lord.
Christopher Sieber: And starring opposite Harvey Fierstein. And it was one of those things, I didn't have time to cry. I didn't have time, you know, I didn't have time to think. I just had to learn the part. And there's so much because like Zaza, you're never off stage. You're always on stage. You know? It's really Georges and Zaza's show. Especially this production. So it's constant go, go, go. So, yeah, and I went in to show up. But I did it. And the reviewers loved us, so that was good. You know? Even though they came a week after I'd learned the part.
And then [inaudible] the producers wanted to see if I would go on tour. Harvey, Harvey and I would go on tour. I said, "Yeah, if Harvey's in for it, yeah. Sounds like fun." And Harvey's not, you know, he's got Newsies and he's got this new show called Kinky Boots that he's working on so he's unavailable. And so they came to me later and they said, "Would you like to do the tour still, but we think we have George Hamilton." And I said, "George would look really terrible in a dress." And he said, "No, no, no. He's playing Zaza. Albin Zaza." I'm like, "Really? Oh, yeah. Let's do that. That might be fun. That might be fun." And that's how I never expected to be in the show, but here I am doing the show, both parts. I know the show inside and out.
I guess which do you prefer? The one you're doing now is so much showier. I would think that would be more fun.
Christopher Sieber: Yeah, it's a lot showier, but it's a lot more exhausting. You know, there are days when oh I'd just love to put on the crushed velvet jacket and just do that show. Because in that all you have to do is walk and talk and sing. You know? In Zaza you're all over the place. I've got 15 different dresses, I've got 7 pairs of shoes and 6, 7 wigs. It's just so much. It's so much. But it is a lot of fun. It is a lot of fun to do and the audience just loves it, so that's good.
You know, you have a pretty deep voice and in the show, you've got some pretty high parts that you've got to sing. What's your secret to keeping your voice hydrated?
Christopher Sieber: Well, there's several things. First of all, it's lower now because of air conditioning. I'm not in really good vocal shape right now. I'm not, I've got a slew of swollen cords so I'm just… what are you gonna do. But for the most part staying hydrated with electrolytes, potassium, calcium, and Gatorade.
Oh yeah?
Christopher Sieber: Yeah. Yeah. Gatorade. Really actually helps you stay hydrated, well that's what it's for. But it really does work. It really, really does work. And every now and then you need an Advil. You know? Like today I'm gonna need an Advil because they're just swollen great today, they're just swelled up. You know, you get through it. But in the morning it's usually like this and then it gets better as the day progresses. Yeah, but those are some crazy, crazy Jerry Herman notes that… he's crazy, nutty. And he loves it when it's up high. Boy does he love that. Mostly A flats all the time, it's crazy.
What's it like working with George? I would think every single second you could spend with him, it's just kind of like a treat.
Christopher Sieber: Yeah, well he's, you know, we've gotten to be amazing friends. I mean, that's the cool thing and that always helps when you're working with somebody that you like. He's so much fun, he's a lot of fun to be with. I mean, he's 72 so he's a little slower than me, a lot slower actually, and… but he's a… he's such a… he's so much fun to be with. He has the greatest stories of all time about the MGM days because he was there, you know, and you hear like, "Well tell me about this story. Can you tell me a story about this?" "Yeah, people say that but that's not true. I was there. This is what actually happened." And yeah, he's a lot of fun to walk around with in airports too because people are like, "Is that George Hamilton? What is he doing here?" So it's kind of fun.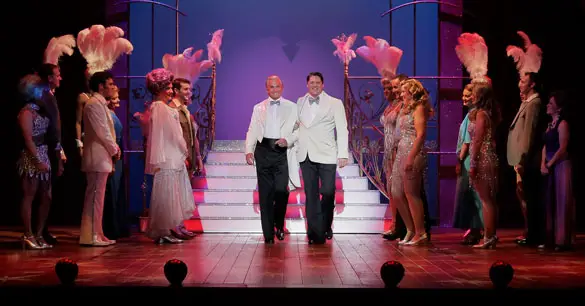 You've been nominated for two Tony Awards.
Christopher Sieber: I have.
Does that make things easier for your career or harder because you feel like you have to be choosier?
Christopher Sieber: No, you know, I'd always been choosy my entire life. So I just kind of take things as they came and I do get the opportunity to read and preview anything that comes my way. And, you know, if I don't think I'm right for it then I just say, "You know what? I'm not right for this. I'm not gonna go in for it." You know, there's things that have to speak to you and there's something about it that you know you have, you can do that. And there are certain things that just don't speak to me. So that's what happens.
But no, as far as Tony nominations go, you know, they put you at a I guess… the best feeling… it was the overwhelming feeling that first nomination, it was like the respect of your peers that is such a tangible feeling when that happens. And that is the greatest honor of all. And when they like you a second time, even more respect. That is really truly the greatest thing. The respect of they singled you out of all the performances on Broadway, yours was one of the best. And that's pretty freaking awesome.
I would think so.
Christopher Sieber: So, yeah. I mean, I actually don't know what I would do if I actually won. Because then I would panic. I think I'd panic a little. Yeah, I would. I think I would panic a little bit because then it's like, "Oh God, now they're gonna think I'm… I gotta be good all the time." So, you know, but yeah, that was great. And I think everyone should experience when they open an envelope.
Is your heart racing?
Christopher Sieber: Oh my God, you have no idea. Oh my God, yes. It's the feeling of hope and happiness and joy and then 2 seconds later when they open it up and it's not you, it's despair and destruction. It's like a feeling inside your heart, you're like "Ugh." Because the first time, the first time I knew I wasn't gonna win. But the person who opened the envelope, she went, "Oh!" Like it was a surprise, like it wasn't the guy that everybody thought was gonna win. So I was like, "Wait a minute. She said oh." And you know what? It wasn't me. It wasn't me.
And the second time it wasn't me. The second time around was a lot of fun though because everyone in the category except for one person was a dear friend. We all worked together in some show somewhere and we hang out and we go to lunch and dinners and hang out and have a great time. And they're all my dear friends so it was like whoever wins, it's great. That's fantastic. Yay. Yeah, it's nerve racking as all hell.
And then we have to perform on the Tony Awards, we were doing Shrek I had to perform. I… there's a set piece that I tripped. I tripped and then my mind went blank.
Did it?
Christopher Sieber: I'm on like national television. Yeah, my mind went blank. But I did the number. I did… my body took over. I don't know… I don't remember it. But my body took over. I tripped and my mind went blank, completely blank. And I was like, "I'm gonna fuck up on national television. I'll be a Youtube sensation for decades. Great."
How did you get your start? Did you always know you wanted to be an actor?
Christopher Sieber: Yeah, actually I started in 3rd grade. And it started as a class clown and then it kinda turned into career. Yeah, I always did and I was just always performing. I was always putting on shows in my living room and doing that. But I had some great teachers in high school that said that I should probably head to New York because there's nothing here for me. Nothing in Minnesota for me, so they suggested that I go to New York and they were right. And so I have to thank my teachers in high school, because they kinda told me to get out of town.
I did nothing to thank my high school teachers for, so that's good.
Christopher Sieber: Yeah, well, you know. It was nice of them to do that.
What's your advice to actors?
Christopher Sieber: You know what? Believe in yourself and keep going. I mean, this business ain't easy. You know? And it may look glamorous, but you always have to work hard. You never, ever stop working. You have to continue and you have to keep going. Just keep going. Keep yourself in shape and pay attention. The world out there is a human zoo and the human zoo is filled with weird wacky behaviors that people do. And you can take that stuff if you pay attention, there's behaviors that if you… you can always steal from… that's what I do. I watch people and people do weird stuff. The human animal is weird. And so there's… people have these weird quirks and just kinda put it in the back of your head in a filing cabinet little behavior. "Ooh, I've gotta steal that kinda gesture. That thing." But yeah, keep going and believe in yourself. Keep going to class.