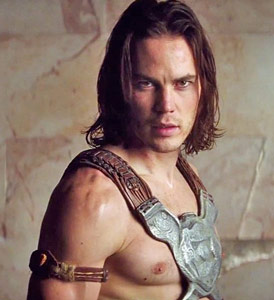 Taylor Kitsch kick-started his career in 2002 when he moved to New York to study with renowned acting coach Sheila Grey. He landed his first major feature film the following year and has worked consistently in film and television ever since.
Perhaps best known for his part in NBC's critically acclaimed television series "Friday Night Lights," Kitsch brings poignancy and vulnerability to the role of Tim Riggins, a Texas high school fallback struggling to find his identity and wresting his demons by way of the bottle.
During the show's first summer hiatus, Kitsch filmed the feature "Gospel Hill" alongside Julia Stiles, Danny Glover, Angela Bassett and Samuel L. Jackson. Directed by Giancarlo Esposito, the film focuses on the bigoted former sheriff of a Southern town and a one-time civil-rights worker whose intersecting lives are still haunted by events that took place decades before.
Most recently, Kitsch starred in Steven Silver's "The Bang Bang Club," portraying Pulitzer Prize-winning photojournalist Kevin Carter, whose work in South Africa helps to bring about the fall of apartheid.
Other feature-film credits include Renny Harlin's horror flick "The Covenant," Richard Ellis' cult classic "Snakes on a Plane," Betty Thomas' comedy "John Tucker Must Die" and, most significantly, Gavin Hood's 2009 sci-fi action-adventure, "X-Men Origins: Wolverine," starring as Gambit alongside Hugh Jackman and "John Carter" co-star Lynn Collins.
Biography/Filmography courtesy of Walt Disney Pictures and the film, John Carter.