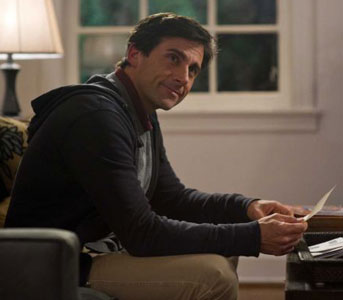 Steve Carell is one of the most sought-after actors in Hollywood. After first gaining recognition for his contributions as a correspondent on Comedy Central's Emmy Award-winning The Daily Show with Jon Stewart, Mr. Carell successfully segued into primetime television and feature film stardom.
The Massachusetts native's first movie lead was in The 40-Year-Old Virgin, for which he wrote the screenplay with director Judd Apatow; the picture opened at #1 and remained atop the domestic box office for two straight weekends. The 2005 sleeper hit went on to gross more than $175 million worldwide and achieve #1 openings in 12 countries, followed by over $100 million in DVD sales in North America alone. The movie won an American Film Institute Award as one of its (10 Best) AFI Movies of the Year, among other honors. Mr. Carell and Mr. Apatow shared a Writers Guild of America Award nomination for Best Original Screenplay.
Mr. Carell shared the Screen Actors Guild Awards' top movies prize, for Outstanding Performance by a Cast in a Motion Picture, with his fellow actors from Little Miss Sunshine, directed by Jonathan Dayton and Valerie Faris from Michael Arndt's Academy Award-winning screenplay. The movie's many other accolades included an Academy Award nomination for Best Picture.
He recently produced Glen Ficarra and John Requa's Crazy, Stupid, Love, in which he starred with Ryan Gosling and Julianne Moore; Among his other popular movies are Jay Roach's Dinner for Schmucks, opposite Paul Rudd; Shawn Levy's Date Night, with Tina Fey; Peter Segal's Get Smart, opposite Anne Hathaway and Alan Arkin; Peter Hedges' Dan in Real Life, with Juliette Binoche and Emily Blunt; Tom Shadyac's Bruce Almighty, opposite Jim Carrey, and Evan Almighty; Adam McKay's Anchorman: The Legend of Ron Burgundy, with Will Ferrell; and, in voiceover, Jimmy Hayward and Steve Martino's Horton Hears a Who! as well as Pierre Coffin and Chris Renaud's Despicable Me. Production is under way on a sequel to the latter animated feature, with Mr. Carell again starring as Gru.
In 2011, he concluded his starring role in the acclaimed Americanized adaptation of Ricky Gervais' celebrated television series The Office. Mr. Carell's portrayal of Michael Scott earned him multiple Emmy Award nominations as well as a Golden Globe Award. He also received Emmy nominations as a producer of the series; and he twice shared the Screen Actors Guild Award for Outstanding Performance by an Ensemble in a Comedy Series, with his fellow actors from the show.
Building on his successes in acting, writing, and producing, he has inaugurated his own production company, Carousel Productions. Mr. Carell is an alumnus of the Second City Theater Group in Chicago.
He is currently filming Burt Wonderstone, directed by Don Scardino, which reteams him with Jim Carrey; and will next be seen starring in David Frankel's Hope Springs, also for Mandate Pictures, opposite Meryl Streep and Tommy Lee Jones.