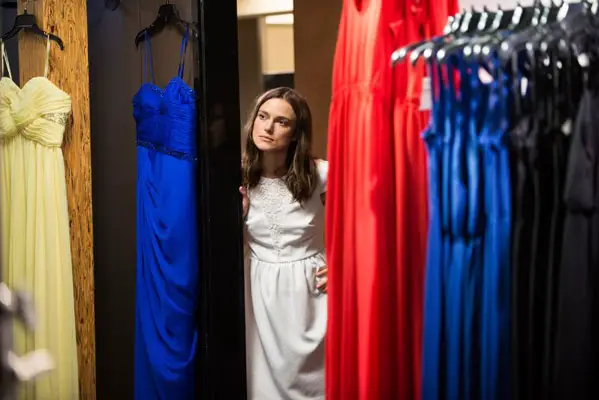 Considering that Keira Knightley's most popular year at the movies was eleven years ago with her dual hits of Pirates of the Caribbean: The Curse of the Black Pearl and Love Actually in 2003, it's hard to believe she is still a few months shy of turning 30. The gorgeous English actress may no longer star in blockbuster pirate movies, but Knightley hasn't quite hit the dearth of roles that many actresses hitting their thirties tend to face in show business. She spoke to Glamour about the positive and negative effects her looks played in her career and why she wouldn't encourage her hypothetical daughter to get into acting.
Though Knightley is quick to point out that her career has been helped by her appearance, she also notes that good looks can also hinder the roles an actress is offered. She says, "I don't think you can say that they're a curse… it would be stupid of me to say that my looks haven't played a part in my career, because obviously they have." However, Knightley adds, "But there have been as many, if not more, parts that I haven't got because of the way that I look.  So I suppose it balances out.  And I do think that in every profession, regardless of what they look like, people have to prove themselves again and again."
As a matter of fact, because her profession is so demanding Knightley says that if she had a daughter she would discourage her from acting. She explains, "I should imagine that if she wanted to act, I wouldn't have a choice, but, no, I certainly wouldn't recommend it.  It can be completely heartbreaking for most people who do it, because the amount of rejection is enormous.  And it doesn't matter what kind of person you are: it's impossible for that not to take a toll.  Even if you're successful, you still have to go through a shitload of rejection.  So I would say to my daughter: 'Be a doctor or a lawyer – something stable and useful."
Personally, I don't know what she's talking about. Being a pirate princess is much more stable than being a doctor or lawyer.