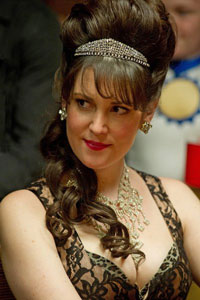 Melanie Lynskey is an accomplished and versatile actress who took worldwide audiences by storm in 1994 with her debut performance opposite Kate Winslet in Peter Jackson's Academy Award-nominated Heavenly Creatures. Her portrayal of Pauline Parker earned Ms. Lynskey the New Zealand Film and Television Award for Best Actress.
In 2009, her notable work in several of the year's films – including Jason Reitman's Up in the Air, Steven Soderbergh's The Informant! (opposite Matt Damon), and Sam Mendes' Away We Go (also for Focus Features) – earned her the Spotlight Award from the Hollywood Awards. Her other movies include Tom McCarthy's Win Win; Tim Blake Nelson's Leaves of Grass; Clint Eastwood's Flags of Our Fathers; Joseph Infantolino's Helena from the Wedding; Anthony McCarten's Show of Hands and Gillian Ashurst's Snakeskin, both of which earned her New Zealand Film and Television Award nominations for Best Actress; Billy Ray's Shattered Glass; David McNally's Coyote Ugly; Jamie Babbit's But I'm a Cheerleader; Andy Tennant's Sweet Home Alabama and Ever After: A Cinderella Story; and Stephen Chbosky's upcoming The Perks of Being a Wallflower.
The native New Zealander most recently starred in the lead role of Hello I Must Be Going, directed by Todd Louiso from Sarah Koskoff's original screenplay, which world-premiered at the 2012 Sundance Film Festival. Television audiences know Ms. Lynskey best for her recurring role on the hit series Two and a Half Men, and she voices a continuing character in the animated series The Life and Times of Tim. Among the shows that she has guest-starred on are House, Psych, It's Always Sunny in Philadelphia, and The L Word. She was a regular on the series Drive; and starred in the miniseries Rose Red and Comanche Moon.