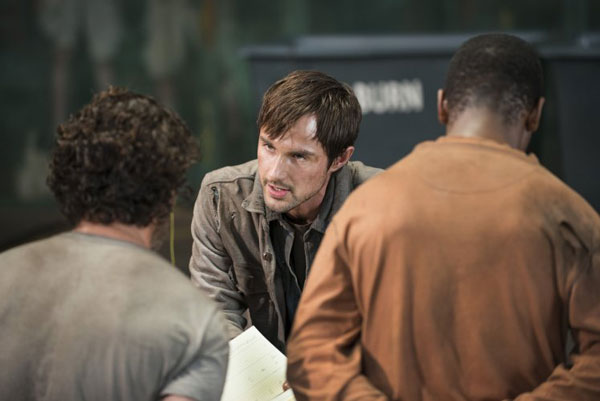 Spoilers Ahead: You've been warned!
AMC's The Walking Dead continues to be a monster hit for the cable network. The show has been shaking things up this season by integrating scenes and a character from the comic book series it is based off of.
Andrew J. West plays Gareth, the head of the cannibals, on the show.
He explained to The Hollywood Reporter how edgy is character truly is, "We shot the premiere and, going into episode two, I had no idea. I read that script, and when I got the last couple pages, I was just shocked — but in a good way. I was smiling from ear to ear. All [showrunner] Scott [M. Gimple] had told me was that I was in episode two. I kept reading and got to the final pages, and my God. I'm a fan of the comic book too, so that was informing what I was reading, and I recognized certain things. But it was a huge surprise, and a pleasant one at that, for me to be able to get to do something like that."
The twists and turns of Gareth are what keep the 27-year-old actor motivated. By chopping off a guy's legs and eating it for dinner, it's truly a dark side for the character, but a meaty role for the actor.
He shared, "It's such a shocking scene, even on paper. That's the thing: You watch the episode and it's terrifying, but it's terrifying on paper when you read it. I was up pacing all night because I was so excited to shoot it. It was a big surprise, but I loved it."
West even shared that it tasted pretty good. He added, "It was some type of pork, and it was pretty delicious! It was good, and it made shooting that scene much easier to have something so tasty. The last line of the episode wasn't that hard to say!"
For fans of the comics, Gareth is closely associated with Chris, head of the Hunters. West is an avid reader of the series. He said, "I started reading the comics immediately after I got cast. It wasn't so much to help me with the job; I didn't know if my character was based on any of the characters in the comics. I don't use it as a research tool. I don't think it's necessary since the show is its own thing. You don't need the comic to do your job well because it is its own world with its own story."
The Walking Dead airs on Sundays on AMC.