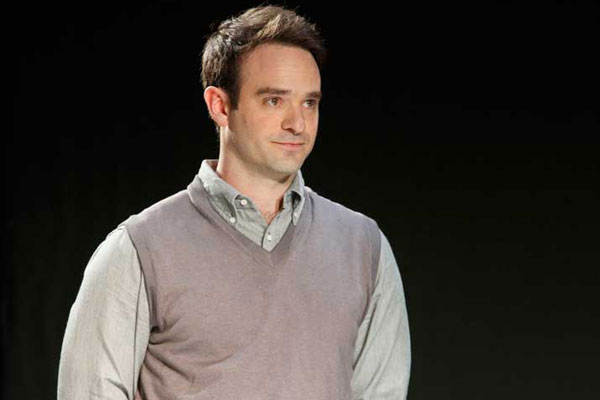 "I realized I had gotten into a habit of not making eye contact, because the only thing I had done for two years is play someone who is blind." – Charlie Cox
Though some audiences already knew Charlie Cox from his roles in Stardust and HBO's Boardwalk Empire, the English actor gained worldwide recognition when he was cast as Marvel superhero Daredevil in the popular Netflix series. After two seasons of Daredevil, Cox has taken a brief break from playing the Man Without Fear to star in the off-Broadway play Incognito at the Manhattan Theatre Club. In the play, Cox plays six characters within three interwoven stories.
In an interview with The Hollywood Reporter, Cox reveals how playing Daredevil might have cost him a chance at a role in the upcoming Han Solo movie, why he decided to do a play, and which of his six characters he finds the most challenging.
As much as he loves starring on Daredevil, Cox confesses that playing the blind superhero for two seasons has thrown him off his eye-contact game. He reveals, "It's been really fun to look people in the eye. I had gone to an audition — one of those things that are super secretive and they don't tell you, but I'm pretty sure it was for the Han Solo reboot— and halfway through it, the casting director stopped me and said, 'Why aren't you looking at me?' I realized I had gotten into a habit of not making eye contact, because the only thing I had done for two years is play someone who is blind. I never got invited back, probably because they couldn't figure out why I was acting like a complete idiot."
Cox decided to do Incognito for the challenge of doing live theater again. He explains, "I've been looking for an opportunity to do a play; I last did one in 2010. It's such a wild journey — you spend almost the entire time being utterly confused, and then suddenly, it all makes sense. As an actor, I saw it as such a challenge."
Of the six characters Cox plays in Incognito, his most difficult is a character who has memory issues. He says, "I find Henry, who is losing his memory, so endearing. When he has to 'reset' — suddenly he's not there, and he acts like he's seeing the woman he loves for the first time in a long time — I want those moments to be truthful." However, there is one aspect to playing Henry that Cox finds easy. He adds, "It's nice to play an Englishman again; I've been playing an American for the last two years. I get a lot of his speech patterns and mannerisms for free."