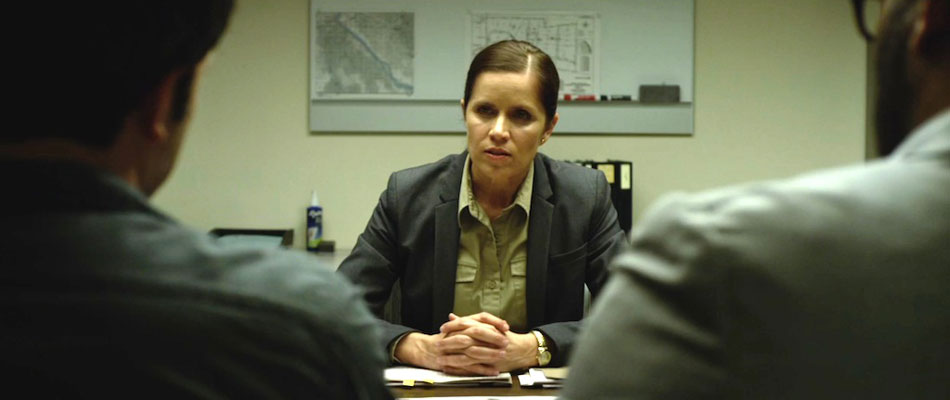 Gone Girl was at the top of the box office last weekend after battling it out with The Conjuring prequel, Annabelle. For Kim Dickens, who plays Detective Rhonda Boney in the film, working with director David Fincher was the real win.
The 49-year-old star talked about how she went from a callback to rehearsal within a matter of days.
She said, "It was sort of fast for me. I didn't have the luxury of having a lot of time to go hang out with detectives and all that. Sometimes it helps you, but sometimes you just gotta show up, just show up and jump. I was certainly in great hands with Fincher and [author/screenwriter Gillian] Flynn."
Fincher is known for requiring multiple takes of scene even if the actors have already nailed it. Dickens explained, "It was fun to meet that challenge every day. He demands everybody's best work, but it's fun. And he's a very funny person, too. He likes actors, he likes working with actors. We all had a great time."
Fincher is also a very hands-on director who knows what he wants from the actors and from the characters written in the script. For her Detective Boney role, he knew exactly where he wanted to take the character down to the most minute detail.
"He told me from the very beginning, just carry a coffee cup with you everywhere, and so I did. It really helped. It was so specific for me that it was completely comfortable for me to have in my hand. If I had to do other things, it was just a natural choreography of hand movements and exchange because it felt like a part of me. So much so, that I always made sure it was coffee and milk in the cup because if you sip anything else, it was different," she said. "If you tried to cheat and sip water, it just didn't play the same. It wasn't the same temperature, it wasn't the same weight, it just didn't do the same things in the mouth. And I would get so specific about that because he was giving me so many things to do in every take, the last thing I needed to do was to recreate coffee for myself."
The way he worked made all of the pieces fit will together even though she didn't have a lot of preparation time.
Dickens summed up, "In a way, it was just — David Fincher and Laray Mayfield, who cast the movie — it was just their very strict eye on who would fit together. They just had that instinct. We did just sort of fit together that first time we read the lines together, and I'm grateful for that."
Gone Girl opened on Oct. 3.