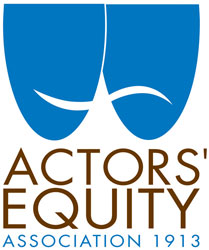 Would you know the difference between a union and a nonunion national tour? Actors' Equity is trying to distinguish between the two so that audiences are educated on the quality of the production.
In September, the theatre actors' union began an online campaign in Chicago to let people know the differences between an Equity tour and a production using nonunion actors. The goal is to have bookers bring more Equity tours to their cities and give union actors more work.
The publicity hasn't been cheap though. The union spent a low five-figure sum to get the word out on sites like Hot Tix and Theatre Loop. They are hoping that this will affect ticket sales at the box office.
"The word 'Broadway' gets used a lot by touring shows in cities across the country, but some of them have nothing to do with Broadway — so why are audiences paying as much for them as they would for Broadway shows?" said Mary McColl, the executive director of Equity. "I think a lot of audience members are discerning, and we're asking them to vote with their feet."
Over the years, nonunion tours have gained momentum because they are cheaper to produce than Equity tours. Union actors are paid higher salaries and the production values are often equal to that of the Broadway show.
While Equity has not seen any hard evidence that their campaign is working, they are pleased with the 12,000 unique visitors who have checked out their site. It is a bigger number than they expected.
Not everyone is a fan of the campaign though because nonunion tours are where younger actors gain experience before they turn Equity. A nonunion tour doesn't always mean lesser performances.
Martin Charnin, the director of the original Annie on Broadway as well as the show's lyricist, said, "I've worked with brilliant Equity actors, terrible Equity actors, brilliant nonunion actors, terrible nonunion actors. What matters most is the way audiences respond."
Actors' Equity is thinking about expanding the campaign beyond Chicago, so the fight between union and nonunion tours is definitely not over yet.