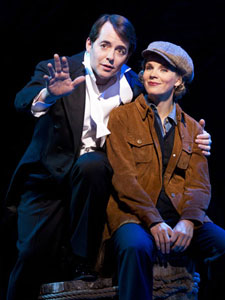 After 27 previews and 478 regular performances at the Imperial Theatre, the producers of the Tony Award-winning musical comedy Nice Work If You Can Get It have announced that the Broadway production will play its final performance on Saturday, June 15th.

The production began performances on March 29th, 2012 and opened on Apr 24th, 2012. A national tour will be launched in the 2014-2015 season.
For most of the cast who have been with the show since the beginning, it was definitely nice work.
The production stars two-time Tony Award-winner Matthew Broderick, Tony Award nominee Jessie Mueller, two-time Tony Award-winner Judy Kaye as Estonia Dulworth, Emmy and Tony Award winner Blythe Danner as Millicent Winter, Tony Award winner Michael McGrath as Cookie McGee, Tony Award nominee Jennifer Laura Thompson as Eileen Evergreen, Chris Sullivan as Duke Mahoney, Robyn Hurder as Jeannie Muldoon, John Treacy Egan as Chief Berry, Conrad John Schuck as Senator Max Evergreen. Academy Award winner Estelle Parsons returns to the role of Millicent Winter on Tuesday, April 30th.
The show, featuring music and lyrics by George Gershwin and Ira Gershwin and a book by two-time Tony Award-winner Joe DiPietro, is directed and choreographed by three-time Tony Award-winner Kathleen Marshall.
Producers Scott Landis, Roger Berlind, Sonia Friedman and Roy Furman said in a statement: "Nice Work If You Can Get It has been delighting audiences at the Imperial Theatre for over a year and we could not be more thrilled with the response it has received. All good things must come to an end, but we look forward to sharing this great show with audiences across the country with the launch of an upcoming national tour. We must recognize the invaluable contributions of our director/choreographer Kathleen Marshall, book writer Joe DiPietro, and the extraordinary cast and crew led by Matthew Broderick, Jessie Mueller and our original Billie Bendix, Kelli O'Hara. Nice Work… has proved, once again, that the music of George Gershwin and Ira Gershwin will live forever to delight audiences of all ages."
The cast also features Cameron Adams, Clyde Alves, Andrew Cao, Kaitlyn Davidson, Jason DePinto, Kimberly Fauré, Paloma Garcia-Lee, Stephanie Martignetti, Barrett Martin, Michael X. Martin, Kaitlin Mesh, Shina Ann Morris, Adam Perry, Jeffrey Schecter, Jennifer Smith, Joey Sorge, Emily Tyra, Correy West.
The musical comedy features a veritable hit parade of iconic George Gershwin and Ira Gershwin songs as well as some unknown gems in their catalog, and a book by DiPietro. It's the Roaring Twenties, and a cast of outrageous characters gather in New York to celebrate the wedding of a wealthy playboy (Broderick). But things don't go as planned when the playboy meets a bubbly and feisty bootlegger (Mueller) who melts his heart.
TICKET INFORMATION
Tickets for NICE WORK IF YOU CAN GET IT are available through www.Telecharge.com, by calling 212-239-6200, and in person at the Imperial Theatre box office (249 West 45th Street). Tickets range in price from $136.50 to $46.50 (all prices include a $1.50 facility fee). Premium seating is available.
PERFORMANCE SCHEDULE
Tuesday @ 7pm, Wednesday @ 2pm & 8pm, Thursday @ 7pm, Friday @ 8pm, Saturday @ 2pm & 8pm, Sunday @ 3pm