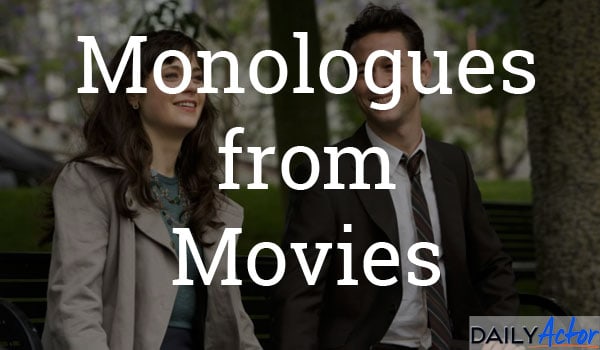 Are you on the hunt for an audition piece that will have casting directors begging for an encore? Look no further! Whether you're craving feel good laughs or yearning for dramatic intensity, we've got you covered with a treasure trove of terrific movie monologues! And guess what? We keep adding more, so make sure to stay tuned and keep checking back for more great monologues!
But before you jump into the world of film monologues, here are some quick tips to help you make the perfect monologue selection:
Find Your (Almost) Perfect Match: It's 'almost' because we'll never find a perfect fit, but we can get really close. A monologue should be a reflection of you and your experiences. Look for characters or situations that resonate with your own life journey, allowing you to tap into your emotions and bring an authentic performance to the table.
Make It Age-Appropriate: It's essential to choose a monologue that aligns with your age range. If you're in your 20s, it might not be the best idea to tackle a monologue meant for a seasoned detective on the cusp of retirement. Select one that showcases your youth, energy, and relatability. And if you're at the age where you're playing parents or that grizzled detective, stay away from those young ingenue monologues.
Role-Ready: Tailor your monologue to the type of role you're aiming for. If you're auditioning for a comedy, find a monologue that brings the laughs. For those eyeing dramatic roles, choose a monologue that will tug at the heartstrings and showcase your emotional depth.
Be Unforgettable: Avoid the tried and tired and steer clear of the all-too familiar. Avoid monologues that have been performed countless times from famous movies by actors from here to Peoria. For instance, if you dare to take on Alec Baldwin's unforgettable Glengarry Glen Ross monologue or any iconic performance that Meryl Streep has done, be ready to deliver a performance that leaves an indelible mark. Otherwise, you risk wasting everyone's time. Be bold, be unique, and leave a lasting impression.
With the perfect film monologue in your hands, the stage is set for your unforgettable performance. Break a leg!
Find Your Movie Monologue Below!
Latest Movie Monologues