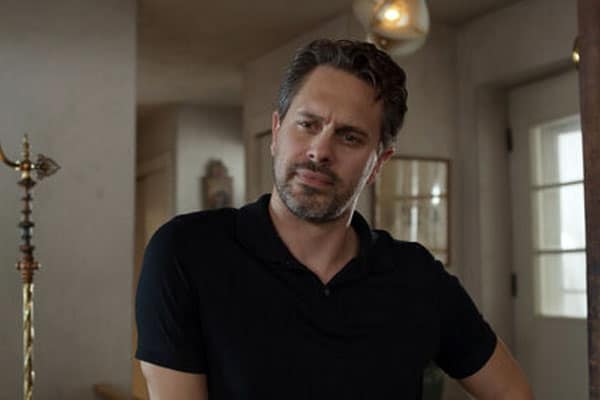 "They're all various different degrees of awful when you don't get the job but it's all part and parcel of the same nightmare." – Thomas Sadoski on Auditions
Thomas Sadoski's resume is as diverse as anyone working today. From his roles in theater (Reasons to Be Pretty, Other Desert Cities, The House of Blue Leaves), and TV and film (The Newsroom, Life in Pieces, Tommy), he's always immensely watchable.
His new role in Thomas Mazziotti's The Mimic, only adds to his impressive resume. The film, a comedy about a man (Sadoski) who's suspicions that his neighbor (Jake Robinson) might be a sociopath, lead him to extreme (and quite funny) lengths to uncover the truth about him and his wife.
In this interview, Sadoski chats about his role in the film that he lovingly calls a "weird little story about these weird people", the state of American theater and how he got started as an actor.
Watching the movie, it seemed like it would be really fun to do. It was almost like a 1930's style comedy. I feel like you really had to be on your game.
Thomas Sadoski: Oh, for sure. It is such a unique, weird little movie. People are either gonna like it or they're not gonna like it. One of the things I loved so much about being a part of it is that it is unapologetically itself. The movie isn't trying to be anything else. It's not trying to be anything other than what it is. And what it is, is this weird little story about these weird people.
It's a discussion about madness and it's fun to be part of things like that that defy expectation, that aren't your sort of normal thing. Where you never know how they're gonna land. People are going to have an opinion about it one way or the other after it's over.
And it does requires you to, sort of, be on your game and not give in to… trying to make a movie to please people or appease people, just letting the movie be what it's gonna be. So, yeah, it was a lot of fun.
I saw in the notes that this was based on a true story?
Thomas Sadoski: [laughs] Yeah, Tom Mazziotti wrote this. It was something that he lived through and it was a lot of fun being on set with that hanging over the proceedings. We got a lot of good laughs out of that. It was cool to know that we were out there telling Tom's story while he was sitting back watching it happen.
Did you guys rehearse beforehand? Because the timing between you and Jake Robinson was just so sharp.
Thomas Sadoski: We had one day of rehearsal. Jake and Tom and I got together, and we rehearsed just for a couple of hours. Just sort of getting a sense of each other and who we were and what we were looking for. And then when we got on set, we had to rely on each other and we just cut loose.
It's almost like a play, dialogue-wise.
Thomas Sadoski: Yeah, it is. It's a literary script or literary film, meaning that the words drive it. It's not a movie that is heavy on the image, you know? It's all about the words, what they mean and what they don't mean. It's just a wildly thoughtful, weird little film.
How did you get involved with this?
Thomas Sadoski: I got a phone call that said that Mazziotti had offered me this movie and to go ahead and take a look at it. And I cracked open the script and started reading it and I went, "Man, I've never read anything like this. This is unique. This is a pretty weird little piece. I have no idea what kind of movie this is going to be, how it's going to work out and if it'll work at all… but how exciting. Let's try it."
How did you get started as an actor?
Thomas Sadoski: In terms like, what was the moment that I wanted to be an actor? I have no idea. It wasn't like one moment where I looked and saw a certain performance, and said, "That's it. That's what I want to do with my life." It just something that crept up on me over time.
When I got out of high school, I realized that I wanted to study it, so I went to college just to get a sense of studying it. And within a couple months of being in college, I realized that I didn't want to do anything else. I had no interest in taking other classes, I just wanted to fully immerse myself in becoming a craftsman. And so, I went to a conservatory (Circle in the Square).
I was lucky that I started working right out of school and I've been just doing my best to learn from the people I've worked with ever since.
What was the first professional job you had?
Thomas Sadoski: The very first professional job I had out of school was on the stunt crew for the Metropolitan Opera in New York. I did the opera Carmen; I was on the stunt crew for that.
And sort of in the midst of that, I got an audition to be an understudy for a play called, This is Our Youth that had Mark Ruffalo, Mark Rosenthal and Missy Yager in it.  I went and auditioned for that and ended up booking that job to understudy both Mark's. I was the lone male understudy in that 3-person show.
That was my first acting job. I wasn't too long out of school, maybe 8 months? I did that for just shy of a year and then Mark Brokaw, who directed that play, hired me to do his next play that he was doing at Second Stage which was Albert Innaurato's play, Gemini.
I went right onto that and I've been lucky enough to tie work together over the course of the last 20-something years, I guess?
I saw you in Other Desert Cities. I loved that show. It was so great.
Thomas Sadoski: Oh, man, I love Robbie Baitz [Jon Robin Baitz]. He's such an extraordinary writer. I love that play. God, I love that play. Did you see it Broadway?
I did, yeah.
Thomas Sadoski: With Rachel Griffiths and Judith Light? We didn't have a bad member of that cast ever. I loved that group. I loved getting to go out there on stage every night and just cut loose. Man, it was fun.
What are your thoughts on Broadway coming back?
Thomas Sadoski: [laughs] Well, you'll never be able to get rid of it. It's coming back but it's gonna look different. It's gonna feel different and I don't think that that's a bad thing.
I think the American Theatre has been desperately in need of something external to shake it up because it has been, for a very long time… in some ways it's become very traditional. And what I mean is that it starts to hold on to traditions in a way that I don't know are helpful for the continued growth of art.
The purpose and the point of art and artists is to constantly push the envelope. It's to constantly move things. It's to constantly take stock of the present moment of the culture that they're a part of. And when you're trapped in a very traditional or traditionalist mindset, it limits your ability to explore those things.
So, I think a lot of what you've been feeling for the past 10, 15, 20 years in theatre has been a real adamant desire to push outside of the constructs of what it has been and really just get rid of or cut loose from a lot of the stuff that's weighed it down.
And I think that COVID and the external nature of it and the way that is has forced a shut down and a re-evaluation, could potentially really do some great things for the art form.
Like I said, you're never, ever, ever getting rid of it. Human beings coming together to sit in a darkened room and tell stories about what it is to be a human being is our oldest art form. It has pre-dated us, and it will outlive us. It's not going anywhere.
So, what do we want to say where we are right now? What do we want to say who we are right now? And how do we want to say it?
I think that the American theatre is going to come back and it's going to come back in a moment of change. I'm really excited to see what new voices pick up, what they're saying and how they're saying it.
Do you have anything planned when everything starts back up?
Thomas Sadoski: Just as the shutdown began, I was in the last couple of weeks of pre-production to direct my first play at MCC, Lucy Thurber's new play called Perry Street. We had this tremendous cast ready to go. We had a set that we were literally just getting ready to start building and then the shutdown happened. At some point, we'll return to that and we'll see how we get back into that and when.
But I also know that there are other opportunities that are out there and that are talked about and exciting but haven't become quite real yet. But we'll see. Like I said, I'm genuinely curious to see what happens.
What's been your worst audition?
Thomas Sadoski: [laughs] Everyone in which I didn't get the job! They're all various different degrees of awful when you don't get the job but it's all part and parcel of the same nightmare.
THE MIMIC is now available on VOD, Digital and DVD