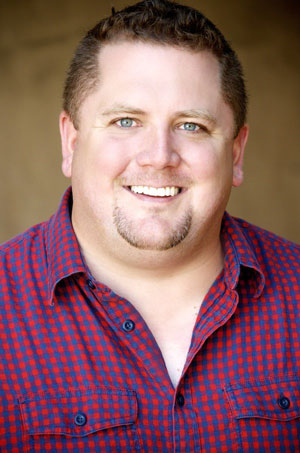 Kinky Boots, the hit Broadway musical, just started its First National Tour and I'm betting that it'll be a big seller in every city it lands. The show, which won six Tony Awards including Best Musical, is about a shoe factory owner (played by Stephen Booth) who's struggling to turn his business around. He forms a unique partnership with Lola (Kyle Taylor Parker), an entertainer in need of some sturdy stilettos, and together, the two form a bond and revive the business to… uh, boot.
The musical has a Tony-winning score by Cyndi Lauper, is directed and choreographed by Jerry Mitchell and has a book written by the one and only Harvey Fierstein.
Also starring in the show is Joe Coots as 'Don'. He works at the factory and is Lola's nemesis. But, like any good, uplifting musical, he eventually learns some valuable lessons from her and turns into a better person for it. Coots (how great is that last name, by the way?), is no stranger to National Tours. He first toured with The Full Monty and he said the only real drawback to touring across America is finding a place to do his laundry.
I talked to him recently about the show, how he decided to go back on tour and auditioning via cell phone. He's also got a great story about how and why he decided to ditch his steady job back in Illinois and head to New York City in search of his dreams.
Follow Joe on Twitter!
For the full interview, click the audio link above or download it from iTunes.
Kinky Boots is currently playing in San Diego. For tickets, click here. Next stops are Portland, Denver and Seattle. For ticket to those shows and the rest of the tour, click here.
How's things going with the show?
Joe Coots: It's going great, man. We're in Vegas right now and then we go to Tempe and then I forget. I think we go to San Diego then. When you're on tour sometimes you just forget where you are. Which is bad because we're just now starting. I need to get my shit together.
How is it working in Vegas? Because when I'm there I'm drinking, then I'm by the pool drinking, then after that I'm drinking.
Joe Coots: It's different because you're in work mode. Like, I live in LA and so it's nothing for me. Friends from New York come out to Vegas, I just jump in the car, be there 4 hours later, and it's 2 days of debauchery, and drive back. So this is a different way because fortunately when we first got here we had a tech here so we were doing rehearsal every day from noon until 10 at night. And then you have to go home and get right up.
And, yeah, it's a little strange walking through a casino to go to your hotel room and knowing that you can't go back down and lose all your money on black. So it is a little different.
But we had 2 days off in a row a week ago. So now that the show's all critiqued and [inaudible]a little bit more, but you're in work mode. You do the show for 3 hours a day but you've got to get your rest and make sure that you're not killing your voice and you're taking care of yourself. So it's definitely still work.
Did you guys have rehearsal in LA?
Joe Coots: We rehearsed in New York. We're in New York for a month. I guess a month. 3 weeks or a month. And then we teched out here. So basically if you don't know what tech means basically the build all the sets in New York and other places and then you come to the theatre that you're starting out at, The tech crew is here for about 5 days before us putting the set up and finalizing it. Our show is a seven semi-truck show. That many sets. Seven. So they have to put it all up and the local crew works with them and then when we showed up the sets were already up and ready to go.
And then we do about a week and a half of tech rehearsals so when you tech a show you've got to start from the top and just go scene by scene. So you'll be doing a scene and they'll say stop. You stop and they readjust the light and get everything the way they want them, and then you continue the scene. And then they stop and you have to work on… in this show there's a lot of set movement too that we're involved in, so we had to learn all that with them. It was a tedious process but Jerry Mitchell, the director, he knows the show so well and he's so good at it that we went through tech very well. It was very painless.
You said that you're living in LA?
Joe Coots: Yeah. I was in New York for 8 years but I've been in LA the last year and a half.
Did you audition in LA?
Joe Coots: Yeah, I auditioned on a cell phone. How's that work?
Joe Coots: It's easy, man. I just booked a big guest star, Person of Interest, when I was in LA in February and literally my buddy holds my cell phone, pushes record, and then I sit there and do my scene on the cell phone and then I email it to my agent, and I send it off.
I'm an actor as well, so I haven't had the opportunity to do that. Did the casting director know your work and who you were?
Joe Coots: Yeah, they already knew who I was and I did one of the original readings of the show, too. Years ago. So they knew who I was. And then I did it on the cell phone and then I flew out for the callback. So I was in the New York for the callback. So part of it was one part cell phone, too the other part was actually flying from LA to New York and being there for the callback.
This isn't your first national tour, right?
Joe Coots: No, I did The Full Monty about 5, 6 years ago.
Is there anything about touring as an actor that you wish somebody would've told you prior to, I guess, signing on? Good or bad?
Joe Coots: No. I mean, kinda no. The thing I always learn too is they always say fill up your suitcase with the least amount you think you're gonna need and then take half of that out because you accumulate so much stuff on the road. Which I'm not really a shopper, so it doesn't bother me, but you've got to keep your life down to a suitcase or two. And that can be a little tricky at times because you've gotta just take the minimal amount of stuff you're gonna need. You're gone for a while year and you're in different climates. Living out of hotels can get old after a while.
What about laundry?
Joe Coots: That's another challenge. That's funny you bring that up because that was one of my chores I have to get done today is laundry. A lot of hotels that have coin laundry machines, and that's a blessing. But where I am right now there isn't one so I found this place that you drop it off and they do it for you and you pick it back up.
Even living where I am now, I would just love to have that.
Joe Coots: Yeah. I'm used to that from New York because in New York we always used the drop off ones. They do it for you, they fold it.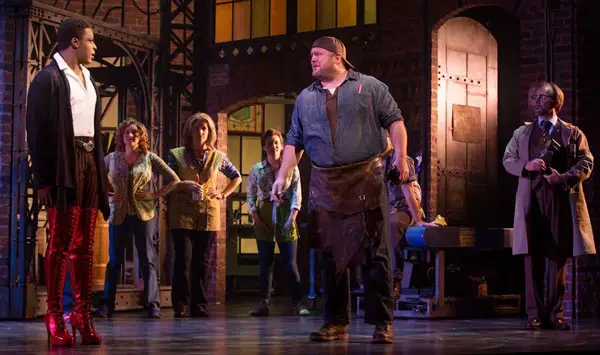 Why did you decide to move from New York to LA?
Joe Coots: Well, I did a fair amount of television stuff out in New York and then you get to the point where, well, you've done enough in New York where you have a little bit of a resume TV wise and then the next step is to go to LA. So that's what I did.
When you moved out to New York originally, did you move out there for more theatre work or for TV or just whatever?
Joe Coots: I had a full time job. I had a full time gig and I just quit it all and moved to New York.
Oh, did you really?
Joe Coots: Yeah. I had a great gig, I worked in higher ed. for 7, 8 years, had a great job, I loved what I was doing. It wasn't that I didn't dislike it, I loved it. And I quit it all and moved to New York and started getting out there at 8 in the morning or 7 in the morning, going to these EPAs and I just started doing it. I had done it in college some but I had never really done it professionally at all. And then I moved to New York and the rest is history, I guess.
So from the day you quit, how long was this idea sort of germinating in your head?
Joe Coots: People say it was a risky move. Yeah, it was, but it was a calculated risky move. I actually got invited from a friend of a friend to do a reading of this show in New York. So I did that and then I thought about it for that whole next year. I'm like, "Man, I love that life, I wanna try it." So it took me about a year to develop the courage and to make the decision. And financially I just had to get everything right. So I made it all right and went for it. And there's been a lot of ups and downs, but so far there's been more ups than downs.
Did you have to get some sort of survival job or anything when you were out in New York?
Joe Coots: Yeah. I mean, I did some. I've done everything. Bartended, everything. Whatever I would do. Fortunately I got The Full Monty tour right away. But I did that for a couple of years and then I came back and then I actually broke my leg. I was on tour with the show and I broke my leg, so that laid me up for 6 months or so. And then when I went back I was starting all over again, so I bartended and did some stuff. Little side things, t-shirt business that I sell t-shirts and, you know, so I did a couple of things like that. But TV, the good thing about TV, it pays really well but it doesn't… you only work one or two days.
Yeah, yeah. Exactly.
Joe Coots: There's a lot of time to, you know, where you can do other stuff too, which is good.
That's why I started this website. What else am I gonna do? Sit around and stare at the wall?
Joe Coots: You've gotta do something. 24 hours in the day, you should only sleep about 7 or 8 of them.
Exactly. You know, touring, it's such a huge commitment. When you find out about this audition, do you sort of have to think about it? Like, do I want to spend a year? I don't know how long your contract is, but…
Joe Coots: Yeah, yeah. I signed a year deal. Yeah, you do. I mean, there's kind of a moment where you're like, "Alright, what am I gonna miss? What am I gonna do?" This one was a no brainer because this show is so great. It's so fantastic. It's a great role. It's a great message. And it's a first national, so you're in really good cities, you're sitting down anywhere from a month to a week, and Jerry always draws really great casts. Everybody's talented in this business but this one's even more talented but they also just good people too. The casting office, Telsey, they always say theyr'e not casting a show, they're casting a family of people that they know are gonna get along. And so it's really important. I don't know how they do it, but they're really, really good at it. This one, we've been with the same group, we rehearsed for… I've been with all of these people for 6, 7 weeks and there isn't any one bad egg or anything like that. Everybody's awesome.
Tell me about your role, Don.
Joe Coots: Don's a great role. Have you seen the show?
You know what? I haven't. Not yet. I'm seeing it when you guys get to town.
Joe Coots: I'm kind of the arch-nemesis to the lead, Lola. He takes down a little bit time to accept that people really are who they are and he doesn't wanna believe it. He's kind of this bigot. But ultimately at the end he comes around and… it's a great role, it's got a great arc to it. A lot of fun. People seem to relate to him and, yeah, it's a great role.
I was just doing another interview before you called and a lot of shows you do, like we have a matinee today and you do an 8 show week and you do the matinee and they're like, "Ugh," you're dragging themselves to the theatre. This one, I can't wait to get there and get before that crowd. This one's an anomaly, it doesn't happen like that very often.
Jerry says it best. He's like, "If you're an actor and you did a show and you don't have fun with it, then you get out of the business." And he's right, he's totally right.