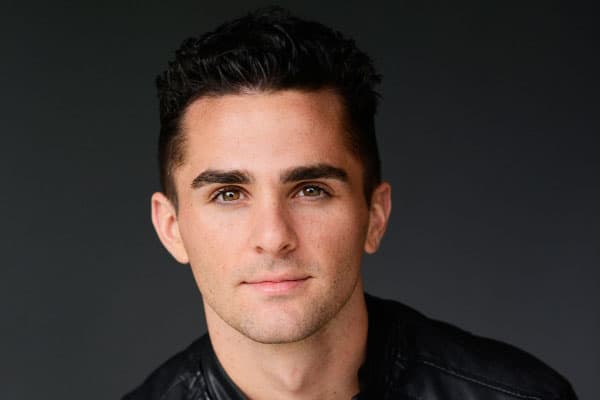 "One of the leading contenders on this year's (Emmy) nominating ballot for Outstanding Commercial" is MagnaFlow's "The Sound of Passion," starring racing legend Mario Andretti. Produced by Campsite Media House, this cinematic spot is authentic, powerful storytelling, putting viewers into the mind of Andretti: he shares his childhood years in Italy, beginning with the Italian Grand Prix at Monza, recalling vividly the sound of the Formula One engines and how experiencing the race firsthand sparked his fascination with racing.
Actor Marco DelVecchio plays Andretti as a young man in the piece which has been praised as a "miniature masterpiece." We took some time to sit down with the actor on his portrayal of the racing icon.
How did the opportunity come to play Mario Andretti? Tell us about the casting/audition process?
Marco DelVecchio: I saw a breakdown for the role and submitted for it. I was asked to submit a self-tape for the role of Mario and I later received an email with the good news!
How did you prepare for the role?
Marco DelVecchio: I watched a lot of his interviews on YouTube and studied his career as a racer.
Are you a fan of racing or any motorsports?
Marco DelVecchio:  To be completely honest I was never the biggest fan of NASCAR or racing sports in general, but after filming this and playing Mario, it has definitely sparked my interest.
How was working with Logan Hendricks as your director?
Marco DelVecchio: Logan is definitely an actor's director. He allowed me to make the character my own while at the same time keeping to his vision.
To do your best work as an actor, what kind of guidance do you need from the director?
Marco DelVecchio: I enjoy positive encouragement from a director; someone who motivates me to get the best out of the character while still being supportive of my choices.
How does it feel to be part of a project that is in consideration for an Emmy nomination?
Marco DelVecchio: I'm extremely proud to be linked with this project because I know so much went into it from a production standpoint, and it's great to see all of the crew member's hard work being paid off.
Marco DelVecchio was born in Providence, Rhode Island and grew up playing football and baseball. Marco got the acting bug after performing in his school's winter musical production of Legally Blonde. Post Tabor Academy, Marco took a gap year in Tampa, FL where he worked, attended acting classes regularly, and auditioned for potential college theater programs. Marco immediately started booking parts in feature films, shorts, and print magazines geared towards sports and fitness during his gap year. Marco went on to study at California Institute of the Arts earning his BFA in Acting.
Written by Adam Davenport.