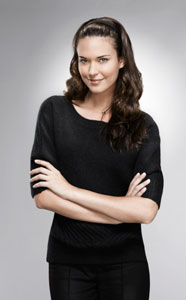 Odette Annable is the newest cast member of FOX's long running series House. She plays prison clinic physician, Dr. Jessica Adams who isn't afraid to challenge Hugh Laurie's cantankerous Dr. House.
Odette has been acting since she was a kid with her first part (and audition) was for the Arnold Schwarzenegger movie, Kindergarten Cop. When she got that role, she was just learning to speak English (Spanish is her first language) and she's been acting ever since.
Lately though, she's facing a problem that every actor might dream about: She's a series regular on two shows. House and the just brought back from the dead Breaking In. Although she has no idea how the shooting schedule will work, she say's that her "number one priority right now is House."
I talked to Odette and series creator/executive producer David Shore in a conference call where they talked about her pulling double duty on two shows, what's it like to be the newest cast member and the loss of Olivia Wilde and Lisa Edelstein.
House airs Mondays at 9/8c on FOX
Odette, you started acting at a young age and I just wanted to ask you a little bit about how that happened that you started acting when you were so young?
Odette Annable: Well, the short answer was that I was a very introverted child, and my parents didn't know how to get me out of my shell so the better option for them was to throw me into the entertainment business, which I think is ridiculous but now it sort of worked out.  I was about 4-years-old and a family friend was doing commercials and they thought well let's see what happens.
My first audition happened to be for Kindergarten Cop and I took that role.  I was only starting to learn English at that point.  Spanish is my first language, so they made me a speaking character in the movie and I ended up—I didn't really know I was shooting a movie.  I was just having a lot of fun with 30 kids my own age, and my parents thought well if you want to keep doing this great.  If not, no worries, and I really had a great time and I continued to do it throughout the years.
I'd still focus on school but my passion really was to act.  It was either to be a CEO of a company, which may very well still happen, or to really push through acting and I did.  I took it seriously and I've been very lucky and I'm so grateful to be on House now.  It's sort of a dream.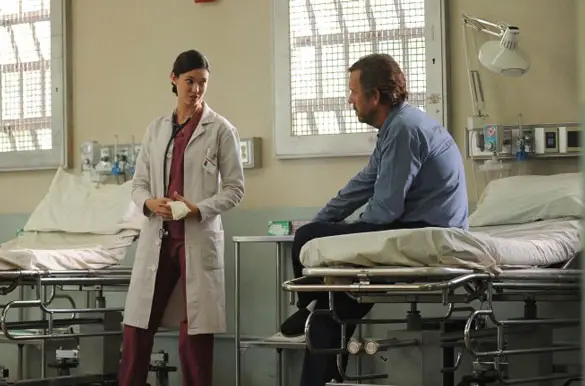 Since you've been acting since a young age what makes this a little different than the other roles that you've had in the past?
Odette Annable: Well, it's a little bit different than the one from Kindergarten Cop.  I've grown.  This is actually unlike anything I have ever done, and I feel so lucky thus far in my career not to have been stereotyped.  I've been able to do sort of a little bit of everything but this is so different.
I mean I believe that this is a television show that's on the highest caliber of writing and acting.  I think it's so flawlessly executed, and it's been definitely the biggest challenge that I have had yet in my career.  And I'm embracing it, and I'm taking it in, and I'm so grateful for the opportunity.  The character is so intriguing, and I really love playing her every single day, and I'm just excited just to go along with the journey with the audience basically.  It's a very good thing.  It's very exciting.
As the newest cast member is it what you expected from the show as being the newest cast member and fitting in and everything else?
Odette Annable: Yes.  I would have to say, yes.  I was definitely nervous.  My nerves were taking over coming in because this is a show that's been on for now it will be eight seasons and these actors have been working together year after year not only just the actors but everybody, the crew.  It's such a well-oiled machine that I was hoping that I could come in and that I was welcomed and to have the dream, and I sort of have.
I've walked into a group of people that really have just welcomed me with open arms and have some compassion for me because they were right there with me in the first year, the second year so they understand how challenging the show is.  And everybody is encouraging, and Hugh Laurie is such a pleasure to work with as well as the other cast members and our executive producers.
We know that your character has some feelings for House but how is it working with Hugh Laurie?
Odette Annable: Hugh is fantastic.  I couldn't help but to be nervous at first really for the whole thing but to be working with Hugh and just to get to know him as an actor and as a person and he really blew me away.  I mean, he might be one of my favorite actors that I've ever worked with.  He's so generous and so talented and so easy to work with so it's been a pleasure so far.
Could you talk a little bit about how you'll juggle both roles now that you have the great fortune of being on House and having Breaking In picked up for a second season.  How will that work?
Odette Annable: Fox is killing me.  I actually have no idea.  I'm very excited that Breaking In got picked up but my number one priority right now is House and working on that.  So I will be doing double duty at some point.  I don't know when that will be yet.  I do think the show Breaking In will start probably early in the new year so we shall see how that goes.  I'm willing absolutely but I guess that needs to be worked out with my bosses so maybe that's more of a David question.
Can we expect to see you around for the full season?
Odette Annable: I'm around for most of the season, yes, and I guess that will be determined later how many episodes I will actually be in but yes you'll see me stick around for a little while.
David, will you be writing an episode solo this season?
David Shore: No, I—maybe, yes, maybe.  The last couple of years I've—my job is to make sure the scripts are all up to the level we expect on the show and I rewrite every script to a greater or lesser extent and I've been quite happy in that role.  This show requires a lot of research and I don't have a lot of time for that research so for that simple reason I haven't been writing a lot from scratch.  If it turns out that this is a final season, which is yet to be determined, I may well write the last one.  I will probably write the last one.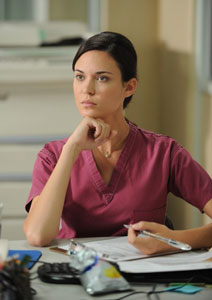 Odette, David was just talking about all the research he has to do.  Did you have a big adjustment playing a doctor, and learning medical terms?
Odette Annable: Absolutely.  At first I got the script probably a few days before shooting so I didn't have time to throw myself into that world but we do have some great researchers on the show and some great medical techs.  They're on hand every single second whenever you need them so I will prepare with them.  I will do my own research just sort of episode by episode into what we really do because we really don't know where our characters are going and what we're going to be doing per episode so we'll take it sort of on an episode by episode basis.
But yes there are a lot of medical terms that I have to learn and this isn't the type of show where you can just show up and wing it.  You really do need to know your things and prepare so it was very challenging and still is, working on it.
David Shore: We've been very good I'd say.  I pride myself on being quite good, on our team being very good at making accommodations and working with other shows and movies over the years to make sure that our people get all the opportunities that they've earned.
David, you said this could be the last season of House.  How do you feel about that if this is the final season?
David Shore: It's always sad in some ways but this has been eight years, nine years, ten years, whatever it turns out to be it's been a tremendous luxury.  It's been way more than I could have possibly imagined.  It's been unbelievable.  I've been extremely lucky as a writer to have been able to explore this character for one year never mind eight so I've got to focus on the positive, and it's just a question of when is the right time to go out before it becomes later.
How did you kind of come up with Odette's character and that angle for House?
David Shore: Well, once we put him in prison and once we knew that we had this challenge this year, bringing in some new characters, those two thoughts kind of went together, and then our casting people and Katie Jacobs brought us Odette and …, and things fell into place.
It's been said that Olivia Wilde won't be on the show in full capacity this season. Where is that story going to go?
David Shore: Olivia will be in very few episodes this year.  Very, very few episodes not because of particular creative reasons on our part but because she's got a very thriving movie career and has asked us to allow her to do that.  We had a great association with her and we do have an episode planned which is kind of the goodbye episode.  Not just planned we've got it shot.  I think it's very nice.
David, you're going into your eighth season.  You've written this show for so long and run this show for so long but how challenging is it or how different is it to write the House character or to write the show without him having Cuddy as a love interest, boss, challenger, all the different purposes she served for him on the show?
David Shore: I miss her.  I miss her personally.  I miss her as a writer but as always is the case, new challenges mean new opportunities and we're embracing those opportunities.