Comic-Con: The cast of Archer, FX's hilarious animated comedy, traveled from parts unknown to San Diego's Comic-Con to talk about the upcoming season. The problem was, they couldn't really talk about what would happen on the show.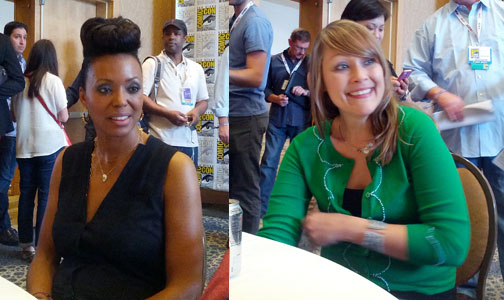 The series, that stars the voices of H. Jon Benjamin, Aisha Tyler, Chris Parnell, Amber Nash and Lucky Yates, is taking such a huge leap in direction that the cast didn't say much. Which didn't really matter because as usual, they all were great to talk with.
The show, if you're out of the loop, revolves around the International Secret Intelligence Service (ISIS) and its employees who use covert operations and global crisis' as an excuse to undermine, sabotage and betray each other for personal gain.
I did roundtable interviews with both Aisha Tyler and Amber Nash where they gave the tiniest tidbits about the upcoming season. Check them out below!
Aisha Tyler
Interview highlights:
How season 5 is a big risk because of the direction it's taking
Lana is pregnant. Who's the father? She doesn't know because Lana is "very slutty."
She's shot Archer 8 times… in real life, he would at least complain to H.R.
What are her favorite shows
She also talks about her new show, Whose Line Is It Anyway?
Amber Nash
Interview highlights:
She's also excited about the new season because of the shift in the show
She was sworn to secrecy about the upcoming season
How she summons her character Pam when she needs some extra attitude
Her favorite Pam insult
She writes Pam's Twitter feed and she needs to get all of them approved before she posts them
Her favorite shows