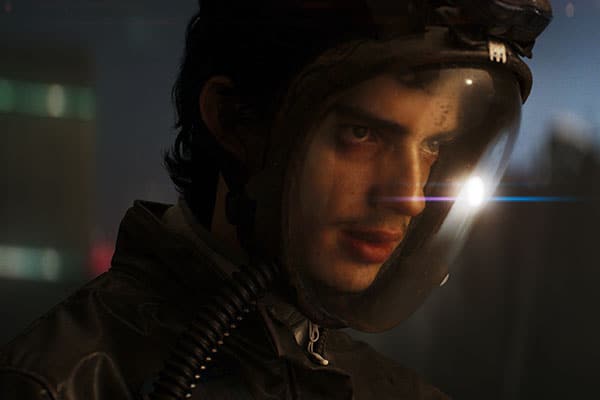 "The ultimate intention is to create a whole life to the character so you have the ability to jump in and out of it when you can… It's all about… being in the moment and being in the intention and motive of that character." – Kodi Smit-McPhee
Kodi Smit-McPhee stars in writer/director Seth Larney's sci-fi adventure, 2067, a film set in a time where humanity is living off manufactured oxygen due to climate change. When a reaction occurs, killing off most of the population, Ethan Whyte (Smit-McPhee) is sent to the future to find a cure.
In this interview, Smit-McPhee talks about the film, a bad audition and how he breaks down each role he plays.
I thought you were great in the movie.

Kodi Smit-McPhee: Thank you so much, man. It's been a little while since I've seen it but it's something that I've been right passionate about. I feel like it conveys a message that I've been waiting to do with a movie.
You bring like a lot of empathy to the character. Is that something you brought to the role or was it in the script already?
Kodi Smit-McPhee: I'm actually really glad that came through because when I was exploring the character myself, I had come to the come to terms that maybe people would not like him for the beginning quarter of it, before he goes on his journey. Because he's accumulated a narcissistic point of view of the world because of the traumas that he's gone through. But I'm so grateful that you saw that… it's because of his traumas and frustrations and kind of lack of understanding of his place in the world, which turns out to be something heroic when he knows what to do with all that within him.
How did you decide to take the role? How did it come to you?
Kodi Smit-McPhee: I believe it was an offer but I had to just call Seth [Larney, Director] over Skype and talk about it. I had some concerns…  I had recently done a movie where my back was hurting and it really wasn't the best thing, and I just was kind of asking and somewhat demanding from him that if I do this that I need adequate support to get through it. I knew from the get-go after that call that, he truly was genuine and what he was saying in terms of looking out for me. So, that was just like the first sense of like, 'OK, with this seems like the right people and they seem like a trust-worthy group to work with. And also, it holds a message that's very dear and true to me.
But then, from that day forward when I flew into Adelaide and eventually met Ryan Kwanten and Seth and did a read through, I really connected with Ryan in terms of our perspective and of the world and the message of the movie.
Yeah, you two were good partners on screen.
Kodi Smit-McPhee: Yeah, absolutely. Onscreen and off-screen we had a great connection.
How do you decide what parts you're going to take on?
Kodi Smit-McPhee: I am pretty picky with the roles that I that I choose to be part of. I don't know if there's a way that I choose it.
It comes to me when I'm reading the script. I feel like if it's not a job for me to read the script and if I find myself at the end very quickly or the story keeps me on the edge of my seat, then if it's enough to do that then it's enough to.
But also obviously beyond entertainment… I want people to enjoy and see a good movie, but I want them to go home and have something that sticks with them and possibly, you know, change their state in terms of how they think and move within the world. I think art has a very powerful way of doing that if you express it in the right way.
Speaking of movie that kind of sticks with you, you did a movie a while back, A Birders Guide to Everything. I just absolutely love that movie. I have no question about it, I just wanted to tell you that I loved it.
Kodi Smit-McPhee: That's very random. I've never had anyone bring that one up. That one was special to me because it kind of was an homage to the 80s kind of kids going on a mission. I've always wanted to do things like that, so I'm glad you enjoyed it.
Whenever I see on screen, you've got so much going on in your eyes and your face. I feel like you could do a part where there is absolutely no dialogue and your eyes face could tell the whole story. What do you do to get prepared for a role?
Kodi Smit-McPhee: Thank you so much. That's so kind of you to say and humbling that kind of conveys on screen.
My dad got me into the industry very young and it was treated as a hobby for a while. The process that he kind of utilized… he's an actor himself… It very much just cut to the core, cut to the center so it parses out the B.S. basically. And the ultimate intention is to create a whole life to the character so you have the ability to jump in and out of it when you can. And also obviously express yourself in the moment of that character. It's all about, I guess, being in the moment and being in the intention and motive of that character.
I mean for me, basically it's just like a whole lot of reading. Reading the script as many times as you can when you know you've got the job and your brain will sponge everything that you can take from the script.
And then after wards, everything that isn't in the script you equate with your own work. And that's like handwriting. You know, you do a lot of handwriting of intention and motives. And it's really draining this character of everything you can, so you know it almost as well as yourself.
But I tell you, at the end of the day it becomes very naturally for me because of what my dad brought me. I can never necessarily put my finger on how my dad does it, he's just so natural at it.  I'm just so grateful that I got to kind of pick that up and carry it on throughout my career.
What's been your worst audition?
Kodi Smit-McPhee: Ha! This is a great question.
My worst audition was when for Death Note. I had sent in a tape for the live action Death Note.  I was really passionate about it because I love anime. I got a call back for it, it was in LA and I thought it was for the same character that I initially sent the tape off for. So, I was like, "I don't need to study the script because I already have that scene down."
And then I get there and they're like, "Do you have sides for this character?" And I was like, "Huh?" So, I was completely unprepared because they wanted me to read for a different character.
So I had to do a cold read for something that was a call back and I completely, completely failed, it. It was great though because it was a good lesson.
2067 is streaming now on all platforms, including Amazon.