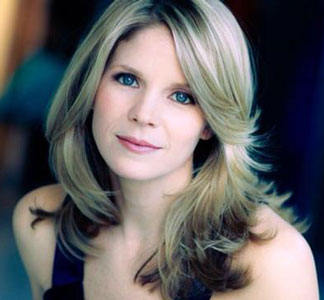 After starring in South Pacific on Broadway for nearly two years, actress Kelli O'Hara thought about starring in a different type of role. But as she tells Time Out New York, she doesn't feel like she's ready to star in older, more subdued roles — especially since she's only thirty-five.  So O'Hara decided on starring in another fun, flirty role. 
"I wanna do something fun, but I don't want to do the ingenue again," she says.  So O'Hara is appearing on Broadway in Nice Work If You Can Get It, a new musical farce utilizing the Gershwin songbook with co-star Matthew Broderick.
Even though she was initially looking for a more serious role, O'Hara came to terms with starring in a musical comedy.  She explains, "I could say, Oh, nobody's dying in this one, and it's not dark and actory.  But the comedy and pacing and this rich music—on some levels, it's just as difficult. The difference is, you're laughing more than you're crying."
But because this is a new musical using older songs, O'Hara has had the opportunity to work a bit with the material since she is originating the character.  For example, during the show's duet of the Gershwin classic Let's Call the Whole Thing Off, O'Hara took a stand on her artistic point of view.  She recalls, "We were doing, 'You say eether and I say eyether,' and I stopped and I was like, 'No, I would say ee-ther and you would say eye-ther, because I'm low class.'  There was then a conversation about how we shouldn't get hung up on those things, and I said, 'I don't know how else to do it. I can't sing a song unless I absolutely connect with what I'm saying.' I'm on a mission to make it all make sense."
Luckily there was a lot of room in the production for the cast and crew to work on the songs.  After all, though all the songs were written by the Gershwins, the cast has to remove the songs from their familiar "crooner" style for the musical.  O'Hara explains, "They did these wonderful, intimate versions of the songs, but we're dramatizing them.  Some lend themselves to staging, like Fascinating Rhythm, but when you're trying to sing something like Someone to Watch Over Me, you wanna just sit in a corner and croon. But that doesn't work in a show."
But the producers could likely find no better actress than O'Hara to debut Nice Work If You Can Get It, since she has such experience in period pieces.  O'Hara admits she isn't fit to sing contemporary songs from musicals, admitting, "I was never going to do Rent; I don't sing that way.  Maybe I was reborn from some 1940s person.  I don't know if I believe that, I just know that I came out of the womb feeling like I wanted to dress up in clothes from the '40s and '50s and sing with Nelson Riddle arrangements."
After seeing O'Hara in South Pacific several years ago, I would have no problem if she spent the rest of her career doing just that!
Nice Work If You Can Get It is currently in previews at the Imperial Theatre and officially opens on April 24.