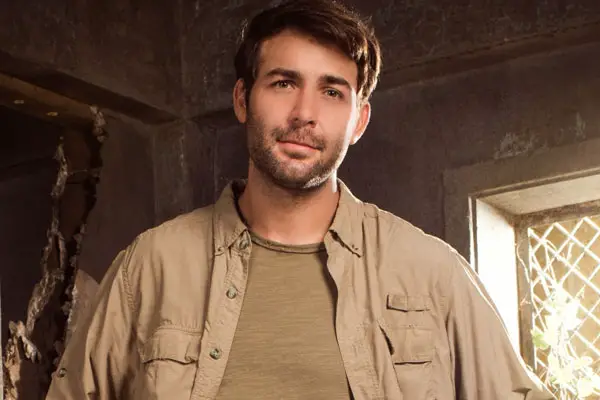 When we last talked with James Wolk, he was just about to start filming season two of CBS', Zoo. The show, about a wave of violent animal attacks against humans that are sweeping the planet, just finished up its second season and it did not disappoint.
Wolk sat down for a roundtable interview at Comic-Con this past summer to talk about the show, working with green screen and more.
Do you guys have any input or do they tell you what's going to happen for you during the season?
James Wolk: We don't get input. Our input is probably the work that we do on screen and then they see the characters come to life and then they build on that.
We're starting season two and the season is really great. It's a dark season. The show, it gets a little darker and the mutation that's making these animals kind of go crazy creating this animal apocalypse is starting to affect humans and it brings a whole new element and a lot of new stakes.
But my favorite part about the season is the idea that the characters come alive even more. With any show, I think you have your first season and you're figuring things out and everyone's figuring out who they are and their storylines. And the second season is kind of game time, right? You've had time to sink into the characters.
What's the animal interaction like on the show?
James Wolk: The animal interaction is very minimal because we do a lot of CGI. When there are real animals on the set, usually… they had this amazing technology where they can shoot us and shoot the animal and lay it over in post. And actually they can lay it over right when you're there and you can see the dailies of how it looks together, so there's no really scary interaction. I hope that doesn't take way too much of the mystique. I've ruined everything!
How do you feel about a green screen acting?
James Wolk: Green screen acting sucks, it is so hard to do. Because as an actor, hopefully in your best case scenario, you're really watching someone, you're really taking them in, you're really interacting. If this was the scene, I'm really talking to you and then I can feel these guys and ever hear them and it's like making it real because it is real. With green screen, you're just making that shit up in your imagination. You're looking at like a c-stand with this green piece of tape and someone's yelling, "The rhinos coming! The rhinos coming!" And you're like, "The rhinos coming!" It's a lot, it's just a lot. But we're the right guys for the job and you get better at it as you go along and you learn to be less self-conscious about it.
Did you do a lot of theatre?
James Wolk: Yeah, I studied acting in college for four years, so I only did plays from my early teens to my early 20s. And I've done one play since then, so I do have some stage experience.
Clark Gregg was kind of comparing green screen to acting on the stage.
James Wolk: You know, I didn't even think about that but that probably does help me. Thank you Clark Gregg. But it's true though because on stage you've got to be comfortable being naked up there and that's kind of what you're doing with green screen.
'Zoo' airs on CBS