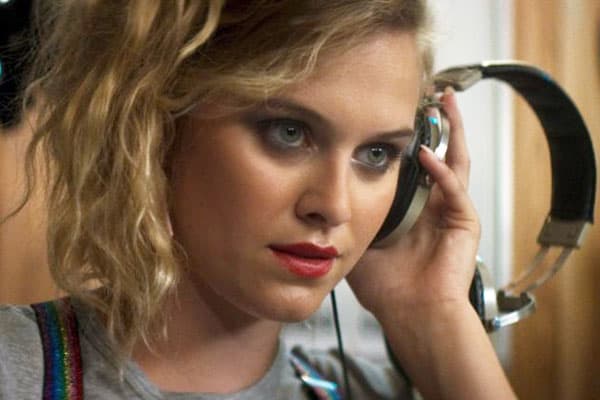 "I think of it as an athlete during the off season, they're not going to stop training and expect to go into the next season 100%." – Tiera Skovbye on Why She Still Takes Acting Classes
If you're a fan of the CW's Riverdale, then you're most likely a fan of Tiera Skovbye. She made a big splash last season when she showed playing Polly, the sister of Betty Cooper. But, not one to rest on her laurels, she's also starring in the new film, Summer of 84. Set in the 80s, the film is about a group of kids who begin to suspect that their neighbor, a police officer, might just be the serial killer who's been wreaking havoc all over town. Skovbye plays Nikki, the lone girl of the group and the smartest of them all.
In the interview, she talks about the film, how she started acting and why she rapped in front of Jason Alexander.
Did you watch any '80s movies to get in the groove of things?
Tiera Skovbye: I did. I grew up … I'm a huge John Hughes fan, and I know he didn't really do a lot of thriller stuff, but I was a huge fan of '80s movies to begin with, and for this one I watched The Goonies, and I watched a bit of Stand By Me. I also watched Disturbia, which I know isn't an '80s movie, but I mixed Goonies and Disturbia a little bit for myself to help get into it because I think there were certain elements of a relationship between Nikki and Davie and the relationship in Disturbia and the killer – next – door kind of thing in that movie.
How did you like being in the '80s for a couple hours?
Tiera Skovbye: Oh, it was awesome. It was so much fun, and playing with that hair and makeup, and the wardrobe. It was so cool. I loved it. It was also really cool going through the script and being like, "Oh, that's so funny because if this were to happen now, we'd have cell phones. We could text each other." Things like that. We were like, "It was so different." You just don't really think about it until you're doing it.
In your normal, everyday life, do you like thrillers and movies like that?
Tiera Skovbye: I do. I'm a bit of a baby. I have to really be in a mood for it because I'm also the kind of person that I always take horror movies and thrillers and stuff like that home with me. I'll be looking over my shoulder for a week afterwards.
Were you looking to do a film like this?
Tiera Skovbye: Well for me I actually… I read the script and I auditioned for it just like normal, and I thought, when I initially read the script, I was like, "Oh, I have to play Nikki. She's so cool." And she's also the only female going on this adventure with the guys, and I thought that was really special. And I knew it was going to be one of those movies that makes people look over their shoulder and think a little bit about the people next to them in the way that when I watch a horror movie, how it leaves with me. I thought that was really cool.
I feel like she's definitely the coolest and smartest of the group.
Tiera Skovbye: Yeah, yeah, I'll take that. Sure, I think she's the oldest and the most mature, and I do think initially when she decides to go into the basement with Davie, I think a part of her is still on the fence of whether or not she believes him, but I think that she cares about Davie. And whether or not it's something that he made up in his head to have an adventure during the summer with his friends, or if it's actually something that he 100% believes, and I think she just more so cares about him as a friend is like, "You know what? Whether he's right or he's wrong, we should just go and explore it because he clearly is passionate about it, so why not? We're here anyway." And I think her being the driving the force of that moment when everyone's doubting him is really cool, and it speaks a lot to their friendship.
When you get a role, what's the first things that you do to flesh out your character?
Tiera Skovbye: A lot of what I do is read the script and analyze it a little bit, and I think what was so cool about Nikki is that there's more to her than meets the eye, and so it was diving into the different elements of her and her not just being "pretty girl next door" and her actually having some stuff going on with the divorce of her parents and leaving her hometown to go to school. They're big life things, and her world as she knows it is changing, and I think it was just finding all of those layers and those nuances about her.
And I think the casting was amazing, and I also think that our writers did a really good job of making each character have their own unique personality, and voice, and appearance, and I think that's what makes it so cool.
You've done this a couple times now with Riverdale and Once Upon a Time, where you've joined a cast that's already been working together for a while. Do you get nervous on the first day of shooting?
Tiera Skovbye: Absolutely. Every time before a new project, the night before I usually don't sleep. I'm usually up all night playing everything over in my head, not so much that I won't be able to handle the acting, or that people are going to mean. It's more of a giddy excitement, like a little kid before Christmas because it's what I love to do and getting the opportunity to get up and do it is sometimes, as actresses, it's few and far between. I think when I do get it, I get very excited. I care a lot about each role that I play in that I want to do it well, and so … yeah, of course, I get nervous, and I think if I stopped getting nervous, I'd stop caring and I never want to stop caring.
How did you actually start acting? What was the first professional thing that you did?
Tiera Skovbye: I got scouted by an agent when I was seven at a fair in Vancouver. It was something that nobody in my family had ever really thought about. My parents were like, "What? Acting? Like what do you mean?" And so I started doing commercials, and my first thing was a Ford truck commercial when I was seven. It wasn't until I was about 11 that I booked my first TV gig and it was on a show called Painkiller Jane that filmed in Vancouver. I played the younger version of the lead actress.
And yeah, I started studying at acting school in Vancouver, and that's when my parents realized that it was something that I was actually going to pursue. They put me into all sorts of extracurricular activities, so that I had any opportunities that I wanted, and they never wanted me to feel they were forcing me into doing something. But as soon as I started studying it, I really got invested, and then it was a spiral from there.
When did you decide it was a good time to move down to L.A.?
Tiera Skovbye: I actually still live in Vancouver.
Oh, you do?
Tiera Skovbye: I still am based … yeah, I do. I'm still based in Vancouver. Every time I try and leave… I tried to move here for a little bit but when I booked Riverdale, I had to go back home. And then last October, I did the same thing. I got an apartment here for a few months and booked Once Upon a Time, which I thought was only going to be… I was told it was only going to be two episodes but it ended up being 10, which was amazing. I was just in L.A. for a couple months, booked a feature film. Again, back in Vancouver. So I think Vancouver is… there's so much happening there right now, and I'm going to be going back and forth a lot between Vancouver and L.A., which isn't so bad. It's a two hour flight, and I can be at home on the weekends if I want to, which is amazing. But yeah, I will eventually be spending more and more time down here in L.A., but I have a feeling that'll just mean I continue to book stuff at home.
Yeah, I think your lucky charm is just to say you're moving to L.A. and then you book something.
Tiera Skovbye: Or book a vacation.
Yeah, that happens to me a lot.
Tiera Skovbye: That was always our joke as a family because I have a younger sister who's also an actress, so it was always a joke. My parents would be like, "Hey we booked a vacation. Which one of you is going to book something and screw it up?" And year after year it happened. It actually happened this summer.
Did it really?
Tiera Skovbye: My sister, mom and I had a trip planned to Greece for my mom's birthday, and I booked a movie in couldn't go. Literally filmed the entire time they were away. Like, "Of course."
I saw that you still take acting classes.
Tiera Skovbye: I do, yes.
Just to keep up your actor muscles?
Tiera Skovbye: Yeah, absolutely. I think of it as an athlete during the off season, they're not going to stop training and expect to go into the next season 100%. So, when I have some down time, when I'm not working, when I have some time, I'll either go audit a class because I think you can learn a lot from watching as well, and from the direction that a teacher gives. Or I'll do monologue or take the class if I'm allowed and I have enough time. Also, I think it's just good for me to keep up and keep learning.
What has been your worst audition?
Tiera Skovbye: My worst audition. Oh, I haven't … I can't think of the worst audition, but one of my most embarrassing auditions was not too long ago actually for a TV show called, Hit the Road, with Jason Alexander. They asked me to sing, and I don't sing ever and I panicked. I was like, "I can rap "Lose Yourself" by Eminem," and they were like, "Okay." And so I did, and then I left in almost tears like, "What have I done? Why did I do that?"
And my best friend actually ended up booking the part that I auditioned for because she is an amazing actor and a fantastic singer. And I went and visited her on set and Jason Alexander was like, "Oh yeah, I remember you. You were the girl who rapped." I was like, "I'm just going to go crawl into a cave now."
Summer of 84 is in theaters now and will be available August 24th on VOD/Streaming.