Comic-Con: Sons of Anarchy's Theo Rossi, Ryan Hurst and Kim Coates stopped by the press room at Comic-Con to chat about the show and upcoming season of FX's hot show, which premieres September 11th.
All three love the show, what they do and who they play and you can tell that in the video below. That's what makes the show so great I think, every actor on the show believes in what they are doing and man, does it show on-screen.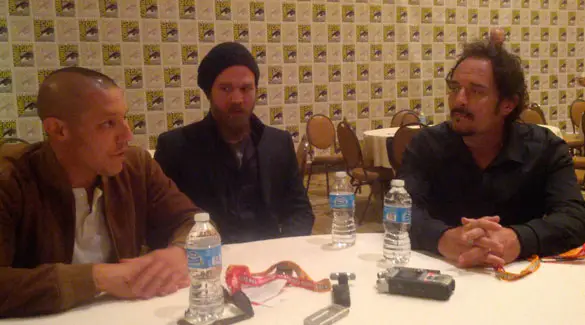 All three are accomplished actors: Theo Rossi studied acting at the Lee Strasberg Theater Institute in New York has appeared in TV shows Bones, Lost, Without a Trace, Veronica Mars, NYPD Blue, CSI: Miami, Lie to Me and has recurred on  Grey's Anatomy and Terminator: The Sarah Connor Chronicles. Kim Coates started his career in 1991 and hasn't stopped working since. On Broadway (A Streetcar Named Desire), TV (CSI, Entourage) and over 40 films (Black Hawk Down, Pearl Harbor). Ryan Hurst might be best known for starring in Remember the Titans opposite Denzel Washington but he's also appeared in Steven Spielberg's Saving Private Ryan, the Coen Brothers' The Ladykillers with Tom Hanks, We Were Soldiers with Mel Gibson and has even done voice work on Disney's Rango with Johnny Depp. 
In the interview, the guys chat about their characters, what the upcoming season will bring, Kurt Sutter and his vision and the what the next couple of seasons could bring.
Check it out below!