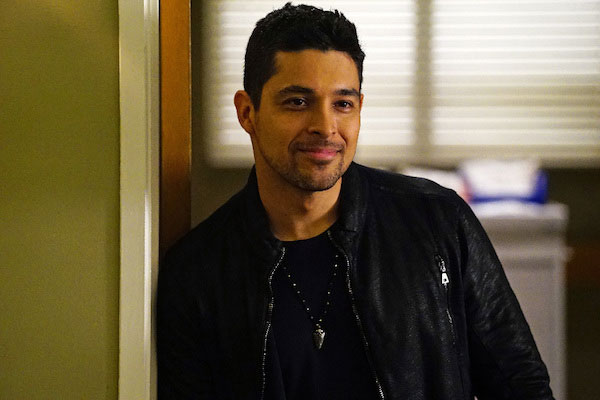 Wilmer Valderrama joins CBS' long-running drama, NCIS this season and he told a roundtable at Comic-Con that he was excited because he's "never played a character like this, the layers are insane."
Here he talks about how he got the role, his character and doing four-page scenes with series star, Mark Harmon.
What was your reaction when you got the role on NCIS?
Wilmer Valderrama: I was really humbled, you know? I was really humbled and really flattered that they had given me a call to join the cast. I just finished Minority Report and literally in the middle of wrapping From Dusk Till Dawn in Albuquerque, New Mexico. I landed in Los Angeles and I finished this pilot called Four Stars for CBS Studios, the pilot didn't move forward, but I was really flattered and really honored that they saw my performance on the pilot and they invited me to join the cast of the show to kind of maybe take an NCIS to a whole different dimension. So, I was excited by the opportunity. I was humbled that I could work with Mark Harmon because I just respect that guy so much. What that show has done for television has been really, really groundbreaking and it's not slowing down, which to me is it was super exciting.
I did have a conversation with the show runner and I said, "Where we going to go next? What is the next chapter for NCIS? If I join, what are we gonna do because I want try to light some shit on fire." That's what I said. Trying to break some shit, you know? And they said, "Listen, that's what we want we want. To disrupt something. And we want to make some things different." So, to me, that was exciting. But I'm humble and excited and proud to be part of such a long-lasting family.
What's it like stepping in to a show that's been on for so long?
Wilmer Valderrama: Well, you know, it felt very familiar. I felt very comfortable. I'm not a stranger to long-standing families. We did eight years and 200 episodes on That 70's Show, so to see how it gels and how the train keeps moving and how it's at a certain pace, I kind of just parachute my way into it and I hit the floor running and I felt very comfortable in there. Some of the things that I've been doing the last couple of years have been very ambitious, very innovative and very forward thinking, so I was excited to come in there and do something different. And that's what we're doing.
Can you describe your character?
Wilmer Valderrama: Nick Torres, who's the name of my character, he doesn't play well with others. He's a lone wolf who's been undercover for a very long time in South America. He's been living kind of multiple lives and currently living a double life. His cover is blown and he's forced to return to the United States and return to Washington to warn somebody about a possible threat and he comes out of the dark. He comes out of the shadows and exposes himself, but he's a different man, he's not very stable. He's very unpredictable. Gary [Glassberg], the show runner, he described him as a loose cannon. He's the guy who's gonna fly through the window first and then ask whose window it was.
I'm excited because I've never played a character like this, the layers are insane. It's so not a character you would expect to be part of a team like this and he's gonna have a tough time adjusting to that. But Mark Harmon and I, we do four page scenes together and so far it has been just delicious. It's been great. Mark pushes me, I push him and it's a wonderful partnership. I'm really proud to play with him, so I'm having a lot of fun.
You started in comedy and now you're doing serious drama. Do you ever miss comedy?
Wilmer Valderrama: It's really weird, you do comedy for so long and you think that's kind of what you're gonna do, you know? And all of a sudden in the last five years or four years of my career, I've only been in drama and action, it's like the most random thing. And a lot of it is I changed physically and did a lot of different things as an actor to kind of evolve into that place.
NCIS premieres on CBS September 20th.