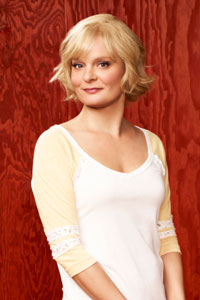 Emmy Award winner Martha Plimpton has had an amazing career in film, theater and TV and has no plans to stop. In its third season, Raising Hope is still one of the best comedies on TV thanks to Plimpton and the excellent cast (including Garret Dillahunt, Cloris Leachman and Lucas Neff).
I talked to Martha in a recent conference call where she talked about the new season of Raising Hope, upcoming guest stars and working with Cloris Leachman and Garret Dillahunt.
Raising Hope airs on Tuesday at 8pm on FOX
You've done a big variety of roles, and I was wondering whether you preferred drama or comedy?
Martha Plimpton: I like them both.  I like being able to explore whatever avenues I'm permitted to explore.  As an actor, I think variety is the spice of life, so I like doing it all.
What guest stars we have coming up this season?
Martha Plimpton: Well, as you know, Melanie Griffith and her mom, Tippi Hedren, are on our premiere episode.  Then coming up, who else do we have?  We have a bunch of people.  We have Jenny Slate coming on, who was an SNL alumn. Wilmer Valderrama, what am I even thinking?  He is on a bunch of episodes coming up.  Chris Klein, who is hilarious.  Then I'm not sure who is coming up after.  We have a little bit of a break right now, so I don't know who is coming up after that.
What was it like working with Michael J. Fox again after all these years, because you did an episode.  You played the runaway girl.
Martha Plimpton: Exactly.  I played the little orphan girl, who tries to shoplift from Mallory's Boutique in the mall.  It was awesome.  I love Michael.  He is a fantastically funny person, incredibly smart, incredibly generous actor, and I just adore him.  The sweetest thing about him was that he actually pretended to remember working with me all those years ago, and I thought that just could not have classier of him considering how many people he worked with when he did that show.  I just love him.  I think he is terrific, and I would kill to do it again.
With the show going on to this third season, how do you feel about the longevity of the show?  What do you think about the show makes it resonate with fans so much?
Martha Plimpton: Well, I think it's really well written.  I think people are surprised when they watch it at how well written it is.  I think people are surprised by the sort of underlying sophistication of the show, and I think that as nutty and as crazy as it gets, it has a sort of underlying core of honesty and authenticity.  These are people who love each other and it's not cynical. 
They're not mean to each other.  They're all in it together.  There are a lot of families out there in this county, who are living with multiple generations under one roof, and they can relate to the sort of ridiculous things that happen when you're living with that many people in a home.  Stuff like that I think.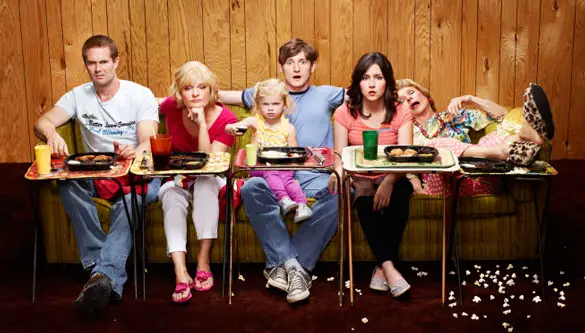 Martha, I've seen Cloris Leachman on a number of TCA panels and she tends to be pretty rambunctious.  What's it like to work with her on set on a daily basis?  Is that kind of behavior manifest itself on the job as well?
Martha Plimpton: She's hilarious, she is fearless, she doesn't care what anybody thinks, and she is very, very funny.  If I have that much energy when I'm 86, I will consider myself quite lucky. 
The show is doing a contest this season, The Raising Hope Clean Sweep.  Can you tell us a little bit about that?
Martha Plimpton: Well, last May, during the up fronts, I pitched an idea for a contest that I wanted to do to engage the fans more and give thanks to them, because I was so excited about getting a third season.  I suggested to the people over at Fox that we have a contest in which Raising Hope's biggest fans win a chance for me to come fly anywhere in the country and clean their house.
Do you know what you're getting yourself into?
Martha Plimpton: Absolutely.  I always do.  I was amazed that they thought it was a good idea, and that they wanted to do it.  So here we are, and we somehow managed to hoodwink Garret into it as well.  He is going to be coming with me and cutting lawns or cleaning pools, whichever is more appropriate. 
Now that the twins are older, are they easier or harder to work with?
Martha Plimpton: Oh that's funny.  First of all, they're so smart, they're so sweet, and they're so fun that they're never hard to work with, ever.  Now that they're getting a little older, it's harder to get them to do things if they don't want to do them.  It's easier when they are babies.  You can just prop them in a chair, and they're just adorable, you know what I mean?  The girls are learning the concept "no." 
The truth is they are so sweet, and their mom is so great with them, and they love coming on set.  They like everybody there.  They have a good time.  We try to keep it fun for them.  It's actually been really easy. 
You and Garret have amazing chemistry.  Where does that come from?  You all are just so natural together. 
Martha Plimpton: Well, chemistry is chemistry.  I don't really know.  We both really like each other, and we are good friends.  Even though we had never worked together before we started the show, we both had met, and we both had worked with a lot of the same people.  We both always wanted to work together, so when it came time for us to go to network together and test, I think it just felt like a good fit.