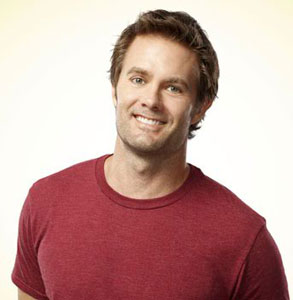 Actor Garret Dillahunt is probably best known for his role as Burt Chance on FOX's sitcom Raising Hope, which makes his new turn in the indie drama, Any Day Now, even more impressive. 
In an interview with Huffington Post, Dillahunt spoke about playing a lawyer trying to help a gay man adopt an abandoned teen with Down Syndrome.  He said, "It's fun to work with dialogue like that.  It's sort of how it was on Deadwood, when I was playing Francis Wolcott and would have these incredible speeches.  Somehow, because they're well-written, they flow off the tongue.  It's fun to express yourself in different ways.  You hardly ever get to do things like that."
Dillahunt was especially impressed with the young actor, Isaac Leyva, in the lead role.  He said, "He was probably the best actor on the set, to our shame.  The thing that was so valuable to me was that he was so filled with joy at the whole process.  It was his dream to be in a movie.  And his emotions are right there, so close to the surface.  It shamed me.  I'd get caught up in the minutiae of the business or be dissatisfied with the way things were going.  You get cantankerous and start to micromanage.  And then you get reminded by this boy why you started doing this in the first place.  It helped the dynamic of the movie.  There was a real danger of falling into sentimentality or stereotypes, which would make the movie easy to dismiss.  But Isaac—and Travis [Fine], the director—helped us tread the fine line between sentimentality and keeping the emotions truthful."
The actor, who has also played roles on TV's Terminator: The Sarah Connor Chronicles, Life, and Burn Notice, was originally going to become a journalist.  He said, "I was a stud on the high school newspaper and journalism was what I was going to do.  In a lot of ways, writing is a similar discipline to acting.  You have to examine character and psychology—except, as an actor, you do it live.  There's a similar itch being scratched."
However, Dillahunt admits, "I was painfully shy.  I still am."
Any Day Now screened at the Tribeca Film Festival last week, but has not yet received distribution rights.