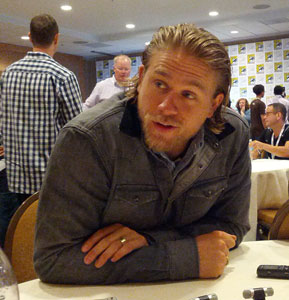 Sons of Anarchy is almost finished filming this seasons batch of episodes and with creator Kurt Sutter only committing to one more season, Charlie Hunnam has about 20 episodes left to play Jax, his character on the show. The whole thing is leaving him "bittersweet," he said in a roundtable interview at Comic-Con.
In this interview, he talks about eventually leaving Jax, the upcoming season and if he prepares differently now that the show is in its sixth season. 
For the full interview, check out the video below.
Sons of Anarchy premieres on Tuesday, September 10th at 10pm
Playing Jax for so long now, do you have a sense of where his mind is, is he going to stay or get out, playing the role? Or what you do think, where he is now what his mind frame is?
Charlie Hunnam: Yeah, I've gotten very close to this character and I'm actually kind of close to this world, the real world. And I know a lot of guys that are living Jax's life for real and I just see that they very, very rarely leave the club. You know? It becomes such a part of who these guys are and their identity and it's very difficult to go and live a normal life after living in the fast lane and with such freedom. I couldn't imagine, no matter what, Jax will ever be able to walk away from the club.
But he's also not going to walk away from his children, so I think he'll… he's just going to do everything he can to continue trying to balance both the best way he can.
But there's always external factors that are going to contribute to that decision and, who knows, maybe the decision won't be his in the end.
You've played this character for so long, it's so engrained in you I would think. When you get the scripts now, are you preparing any differently now? Writing things in the script and doing all the method stuff?
Charlie Hunnam: Probably the reverse. There's a lot less writing in the script than there used to be. I used to keep meticulous notes and always be exploring the character and how we would feel here and how we would react to this. And much more now it just is… I just feel very close to him and don't really need to reach as far to find his truth.
So it's been an amazing journey. I just dread having to take that coat off now at the end. There's a part of me that is excited about the future and excited to finally exorcise him from my psyche because there's been a weight to carrying this guy for so many years in my mind and in my heart, but there's a much bigger part of me that just absolutely dreads it and already is kind of… it's almost like finding out that there's a relative who's sick and having to prepare oneself for having to say goodbye is the feeling that I have going… being halfway through the 6th season because I'm pretty sure that Kurt is committed to only doing one more season after this. So I've got less than 20 episodes left to be this guy, so it's… it's gonna be really bittersweet.