Neil LaBute's 10-episode series Full Circle on DIRECTV is creating a buzz in the television world, not only for the screenwriter's TV debut, but also for the star-wattage of the cast. The third episode brings together two recognizable faces to television audiences, Julian McMahon and David Boreanaz.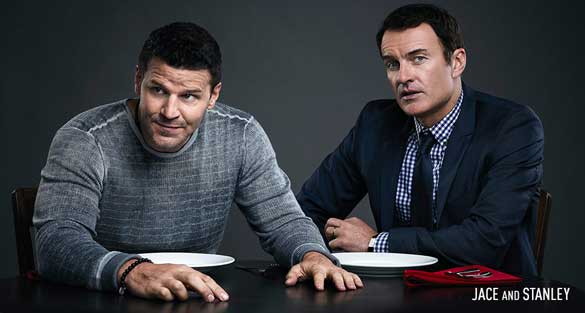 The focus on human interaction is a huge part of LaBute's work. In Full Circle, he progresses the storyline with an interesting concept where each episode features two characters, one of whom repeats from the previous episode. The cycle continues until the 10th episode completes the full circle.
The duo's storyline develops when two old friends, entertainment attorney Stanley (Julian McMahon) and comedian Jace (David Boreanz) meet up to deal with Jace's social media crisis with a young, gay high school student. The dynamics the two actors have on-screen is palpable and Daily Actor was able to interview the two about their work together.
For the full interview, click the audio link above or download it from iTunes 
Boreanaz talked about their onscreen chemistry.
He said, "I mean, being there for each other on a piece like this that's so heavy and so complex character-wise and so daunting and challenging. And in today's world, very relevant with everything that's going on…it was a nice joust between the two of us. I really enjoyed it and one that I really think could be the best odd couple in the new television series."
Both actors bring a strong fan base to the table with McMahon's revealing role in Nip/Tuck and Boreanz's roles in Bones, Buffy the Vampire Slayer and Angel. Full Circle takes their careers in a different direction.
McMahon shared, "For me I feel like I've done stuff which has kind of expressed itself pretty dynamically and kind of pushed the envelope a lot…you never know how people are going to react, you never know how fans are going to react. I have a pretty strong TV fan base who has kind of followed me through a lot of variety of different things and I can't see them not enjoying this. But I think that there's a lot of reasons to that. Aside from myself, the writing is great, conceptually it's just a great idea."
The preparation time on set was extremely short, so 45-year-old McMahon explained how the shooting arrangement worked for the DIRECTV series.
"We had to shoot within a week of knowing that we were doing it and shoot the whole thing in one day, 12-hour day with an hour lunch. It's just not that much time so it was really about concentrating on your piece," said the Australian actor.
With this new model of television, the former Buffy star understands the limitations of network TV in comparison to cable TV or other platforms.
"I think that network television and what cable brings to the table are two different types of mediums and subject matters…there's a lot of great material out there [with] many platforms, which is great for the artists because we can kind of travel around and do a bit here and there," Boreanaz said. "With network television, it's very challenging because you have rules that you can't cross and I think that's a very challenging medium to be a part of and I really enjoy network television. Everyone wants to be on a cable show because you can swear and you can push the boundaries and you can…show a butt."
McMahon quipped, "Nobody's shown more ass on television than I have, I'm telling you."
One thing is for sure, both actors see the changing television landscape as a great opportunity for artists.
"I think that the volume of places that are putting out this kind of stuff is just expanding, so that means the volume of good work is expanding, the opportunities are expanding. I think television is an extraordinary place right now. Not just with cable. With the internet, with DIRECTV. There's just so much opportunity," said the Aussie star.
Full Circle debuts Oct. 9 on DIRECTV.