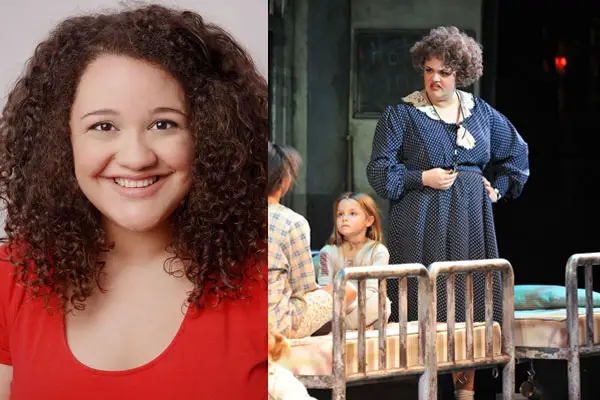 After playing Miss Hannigan, the alcoholic orphan hater in Annie, over 1,000 times, you'd think actress Lynn Andrews would be tired of playing her. Not true, she said. "As I get older, I feel like I understand her more and more," she told me.
She first played the meanie in 2007 and was asked back to subsequent tours but with this current production, she actually had to audition. "They didn't hand it to me again," she said. "It was like two months of auditions."
In this interview, Lynn talks about life on tour, Annie, playing Miss Hannigan and that time she broke her finger on stage.
Visit Lynn's website and follow her on Twitter!
Annie is on tour around the country and currently playing in San Diego. For tickets: BroadwaySD.com. For more tour information: anniethemusical.com
How's the tour going so far?
Lynn Andrews: It's terrific, yeah. We just started up again a couple weeks ago and it's been pretty luxurious. We were in Seattle. We've been in California for three weeks now, so this leg of the tour is pretty cushy. I'm really liking it.
How long are you doing the tour for?
Lynn Andrews: It goes till May. So, like the school year.
I read that you've done this role over 800 times?
Lynn Andrews: Over 1000 times, dude.
Wow. Really?
Lynn Andrews: Yeah, yeah.
When was first time that you actually did the part?
Lynn Andrews: I did the tour in 2007. I forget where we opened, but Martin Charnin, who is directing this production directed that production. And yeah, I was like 12 years old and he was like, "Put a gray wig on her and she'll be fine."
And every time the tour started back up again, they just kept asking you back?
Lynn Andrews: Yeah. I did three legs of that tour and then that closed. And then they did the Broadway run and I did a bunch of other stuff. And when this came around, they didn't call me, I called them. "Can I come back?"
They didn't hand it to me again. It was like two months of auditions.
You had to audition again?
Lynn Andrews: Oh, yeah. Martin the director, he was only one that knew me. Everyone else was like, "Okay, let's see what she's got." They also wanted to see who else was around and who may have moved to the city that wasn't around back then.
So when you have to re-audition for a part that you've done a couple hundred times by that point, what do you do to prepare for the audition?
Lynn Andrews: It was really weird because I would sing the song and it would be like, "Wait, there's no set? I don't have any props? Where's all my stuff?"
It was easier in the room and more stressful out of the room. So when I was actually singing, I was okay. I'm pretty confident in what the song is about and how to sing it and all that stuff. But sitting outside of the room was really difficult because I was like, "Oh my God, what if I don't get this? If I don't get it, I'm gonna die. The world will end." But I think that's the way it is with most auditions.
I'm sure you were completely happy when they called you and said, "Just kidding. Come on out."
Lynn Andrews: Well, yeah. I auditioned March 31st, that was my last call back. And then the next day, I got a call from the casting director and she and I have a good rapport and she was like, "I just wanted to give you a call. We went with somebody else but I just wanted to let you know. Thank you so much for your hard work…" Yada yada. I was like, "Okay, thank you." And she was like, "April fools!"
How do you like being on tour. You've been on the road a while now.
Lynn Andrews: I think I complain a lot about it to the people back in New York and my family and stuff but I love it. I love living in hotels. I've not made my bed in a year, not washed a dish or vacuumed the floor. But I haven't been able to cook a meal for myself, you know?
I think I'd get over that.
Lynn Andrews: Yeah, but sometimes you're like, "Man, I wish I could just have some cereal." But the hotel doesn't have a fridge.
You've done this role so many times now, how do you pump yourself up for each show? How do you make things new?
Lynn Andrews: I don't think that I could do any part for this long. I think I could do this part for this long only because there's a lot of material and I'm younger than the character. So as I get older, I feel like I understand her more and more.
They give me a lot of liberties with how things can be played. There are some shows where they're like, "This is how you deliver the lines. This is the intention behind it." Martin likes everyone to play on stage and really be listening. So if someone's intention is different, my intention is different.
I played Rooster a while back. Once I got over the thought of dealing with all the kids, I the best time doing the show.
Lynn Andrews: It's funny, most of my friends don't have kids yet and their like, "Oh my God, it must be terrible." No. I mean yesterday I was walking in the courtyard of this hotel and they're all sitting around carving pumpkins, having arts and crafts time. I was like, "Oh, this is awesome." It's not every tour that's like that.
How does it feel to stare down at those cute little orphan faces and yell at them every night?
Lynn Andrews: It's good, it's good [laughs]. We have a good time. I've heard about women who played this part, who are like, "I need to maintain my distance with the kids so they fear me." But I can't do that. We play a lot backstage and it's fun.
What's the worst experience you had on tour so far?
Lynn Andrews: We were doing the show and right before 'Easy Street' there's a bit where I exit and scream and I come back and continue the scene. So I exit, I scream, I come back on. I closed the door but I don't know what happened. I close the door on my finger and I broke it. So now, I had to deal with this for the rest of the song and dance number.
But I hadn't realized that I had broken it. It was just bleeding profusely like all over the stage. I was trying not to touch people's costumes, it was horrible.