At Comic-Con, I got another chance to talk to Wilfred's Elijah Wood and Jason Gann. Speaking with them in person is no match for a phone call because these two were hilarious; especially Gann.
If you don't know by now, Wilfred is a comedy about a depressed man who thinks his neighbor's dog is an Australian guy in a dog-suit. Watch 2 episodes and you'll be hooked, I promise!
This time around we talked how Jason got the original idea for Wilfred, his little black dog nose and Elijah answers questions about The Hobbit!
Wilfred airs on Thursdays on FX at 10pm.

For the full interview, click the audio link above or download it from iTunes
When you got the original idea, you were completely stoned, right?
Jason Gann: I was a little bit stoned.  The first 30 seconds of the short film, Wilfred, offered the guy a bong.  He said, "Want one of these?" and when we wrote the short, we verbatim wrote it the way the way we improvised it at first. So yeah, there was bong there when we wrote it.  So, yeah, I'm not saying I'm not saying pro-drugs.
Not at all.  Oh no. 
Jason Gann: People say, "Is it real pot?" It's like, have you been on a professional set? I actually did a short film, my first short film that I made, I played this dude who was smoking weed and he was sleeping on a mattress in the garage of his parents, his mum's place. And I had  set up this brick as his bedside table, and in this scene, I just like, fall down half asleep back on to on the pillow. And my mate was shooting, he said, "I didn't believe ya.  I didn't believe ya.  Let's do it again."  I got up and did it again.  He was like, "I didn't believe it."  I'm like, "are you serious?"  "I didn't believe it. Do it again." And I went head first in the brick and split my head open.  For the rest of the short film, I'm like concussed. So that's what happens when you perform stoned.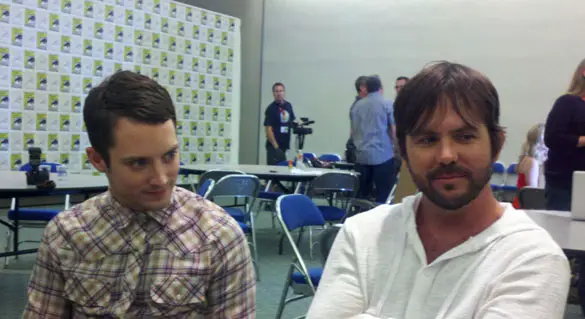 Elijah, you said you haven't seen like a full episode of the show yet but do you want to see it in order? 
Elijah Wood: I've watched some episodes. I'm not actually able to sit down at home and watch an episode.
Jason Gann: I've seen all the episodes, obviously, before they have gone to air and I need to see it… I can't watch something for the first time with people. I need to be on my own so if I'm devastated I can deal with that torture. And fall to pieces in front of the mirror and not in front of people. But there's definitely something different about when you watch a show and you know it's on TV live to if you're watching it on a computer or on DVD.
Elijah Wood: You've just got the energy. You can feel the fact there are a lot of people watching the show.
Jason Gann: Yeah, you can feel it.  That's why, when people are talking about it's all going to be Netflix one day, people would just access the show, I'm like, there's always a community experience.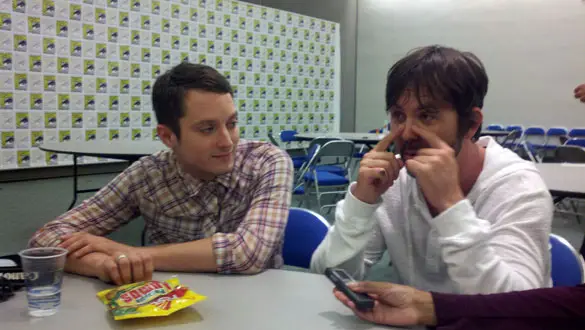 So you're little black nose, is it something you pop on?
Jason Gann: It's adorable.  It's adorable.  I've actually got, naturally a very cute nose.  I've always had it.  I've always had it. And often people think, is it put on and it's not. I'm very particular about it shooting in the contours of the nostril. It can't be up too high or it will look like a koala.
At one stage, recently, the makeup artist said, "Look, I think can get them mold done. It's a rubber one that just comes on and off." And for years I've wanted that, but now, like with the cute extras on the set, they really like the nose and so I'm like, "We don't need to rush the rubber one."
Elijah Wood: Yeah, let's put this out for a little bit longer.
Where do you see Ryan's character arc going?
Elijah Woods: Well, I mean, I think I'd like to see, and it sort of does start to happen, where he starts, the natural process of recovery.  It does start to get better and we will see that.  In terms of where we want it to go?
Jason Gann: Well, I mean, recovery doesn't always necessarily go on an incline. So, we've got a lot of twists and turns and stuff that we think would be really exciting to explore.  Hopefully, we've just started.
Elijah, what do you list the most looking forward to for The Hobbit?
Elijah Wood: I don't know.  I think I'm looking forward to having the experience of seeing everyone again and being back in New Zealand.  In terms of the actual films?
I mean, I'm looking forward to seeing Smaug and how they realize Smaug.  I think that's going to be very interesting as a character.  I'm looking forward to seeing the 13 dwarves and their characters come to life. 3D, all of that.  But just great storytelling. I think I'm looking forward to seeing the scripts come to life.  Peter, Fran and Phillip write incredible stories that are incredibly compelling.  You know, their obviously based on this incredible source material, for sure, but they write really beautiful, they weave in a lot of beautiful humanity and you can really empathize with the characters that they create.
Jason Gann: [interrupting] A lot of people think it's rubber, it's not. [laughter] You guys think I just drawn it on.  It's not, I used to do it with a pen so…
Elijah Wood: Next season it's going to be CG.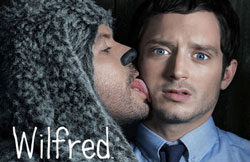 What are the discussions about picking out the bong for Wilfred and what bear he would have sex with?
Elijah Wood: Those are pertinent questions!
Jason Gann: Yeah, and with the bear, there were a lot of cuddly toys brought for us to see and we looked at them and it's kind of like, "Oh, the head's too big on that but it's got a better ass."
Elijah Wood: And the bongs, there were multiple bongs.
You know what I love, by the way? I read a comment in response on, it was in response to one of the episodes. And someone was like, "You know I'm already seeing some problems.  That makes no sense.  How does Wilfred get a lighter?  Where did he get the lighter from?"  I'm like, "where did he get the lighter?  Where did he get the bong, dude?  What do you mean?"
Jason Gann: Where did he get the human face?
Elijah Wood: Yeah, and with that, we're done.