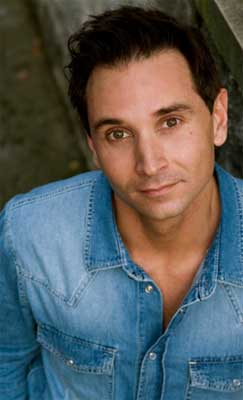 Travis Cloer, who plays Frankie Valli in the Las Vegas production of Jersey Boys, didn't have anyone hand him his career.
No, as a struggling actor in New York, leaving the city was probably the smartest thing he ever did. Because when he came back, he landed on a Broadway stage.
Check out how he did that, the differences between Broadway and Las Vegas and what it's like playing an icon.
I saw the show Tuesday at 6:30 and I thought it was fantastic.

Yeah, it's a fun show.
Yeah, you guys are great.  I guess you can call that an early matinee?

Yeah, it's weird here because everything's in the evening.  Anything in the afternoon is pretty brutal.
You guys were just on fire and cracking.

Those 2 show days are… you know, everybody is pretty high energy throughout the full day.
How long have you been in the show?

I've been involved with Jersey Boys since February of 2007. I was in the Broadway company for about a year and a half, and then they moved me out here last September of 2008.
Did you want to come out here?

It was kind of 50/50.  I enjoyed being in New York and being on Broadway, but the role of Frankie Valli opened up out here and they offered it to me, so I kind of had to take it you know.
How do you keep it fresh?

That's a good question, man (laughter).  That is a really good question, especially after almost 3 years.  You just really have to – well, a lot of it is what the audience is bringing to you that night.  You know, if it's a great house and if it's a great audience of course you always feel as a performer to give it just that little bit extra, instead of – you don't always want to coast on auto pilot.  But sometimes you know you get tired.  But as far as keeping it fresh, you just, with this show, I find I really enjoy singing the music. And the music itself is fresh to me just about every night on its own.
Do you discover like different things each night?

Yeah, I do.  There's always something to work on.  I always try to improve myself each day.  Maybe just a little bit at a time.  But there's always things that I'm working on.
How did you come to audition for the show?

That's a funny question.  I was living in Georgia at the time, and I saw the show had opened up on Broadway.  So, I made an audio demo of me singing some Frankie Valli tunes and sent it into the casting director in New York.  And they kept it on file.
That's smart.

I figured what do I got to lose.  Worst they can do is throw it away or say no, but you never know.  And I'm glad I did because they kept it on file and when auditions rolled around and they needed a replacement they gave me a call and I flew to New York, auditioned for them and the rest is history.

How long from the time you sent in the demo until they called you?

I would say probably about 3 months, 3 or 4 months.
Wow.  I saw that you originally came to the show as Joe Pesci?

That's what I was doing in New York.  I played Joe Pesci in New York.  Also understudied Frankie Valli; went on there quite a bit.  But ever since I've been out there, I've just been playing Frankie.
So what was it like the first time you played Frankie on stage?

The first time I did it in New York, that's where I did it the first time was in New York, I really don't remember it (laughs), you know what I mean?
Kind of in a haze?

I was too busy worried about saying all the right words and being in the right spots and all that stuff.  The only thing I remember of it is afterwards when the four guys run off stage after our curtain call being able to breathe again and then everything coming back to me.
What kind of research did you do for Frankie Valli?  You had his kind of crooked stance.

Yeah, he's got a crooked stance, he kind of holds one of his hands, whatever hand the microphone's not in, he kind of holds up close to his body.  He always kind of has that look on his face like he's in pain.  So, I just… [loud music has just filled the theater in preparation of the show, so we stepped outside].  As far as research, I always listen to the recordings.  I've always been a big fan of Frankie Valli.  I remember the first time that I met him in New York, I shook his hand and told him that he was one of the reasons that I wanted to be a singer.  But I watched a lot of the stuff, they got all kinds of stuff on YouTube.
YouTube, an actor's best friend.

Exactly.  So, I just watched all that stuff and all the interviews and just listened to the music as much as I could and tried to get his little nuances into my head.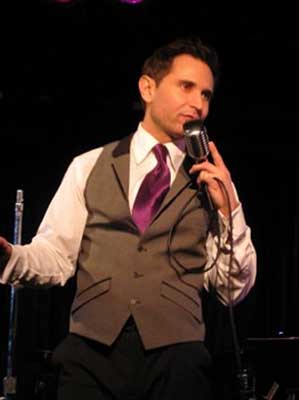 Has Frankie Valli seen your performance?

I don't know if he's ever seen me do it.  He's been so busy.  They've opened up – since I joined the show, they've opened up like six different companies.  So, he's been running around doing all the different companies.  And not to mention touring with his own staff.  So he's a busy guy.  I'm not sure he's ever actually seen me do it.  We've met, we've hung out quite a bit.  He's a good guy.
So what's the difference between doing shows in Vegas and New York, Broadway?

That's another good question.  Audiences are different.  In New York, particularly with this show, with it being Jersey right across the river from New York, there's a lot of little inside jokes that people get there a little bit better than they get here.  Sometimes here the crowds are a little late.  You kind of have to pull some stuff out of them a little bit.  They've been drinking all day, they've been out in the sun and having fun and the last thing they want to do sometimes is come to the show, but by the end of the show, we've got them right where we want them every single time.
How do you keep your voice in shape in this in this dry climate?  It's gotta be brutal.

It's the worst thing I've ever had to deal with in my life.  On top of the lack of humidity and the heat there's also allergies that I have never experienced in my life until I got out here, so I just keep humidifiers running, I try to be quiet whenever I need to be.  I'm doing allergy shots and sleep and water, water, water, water, water.
I know myself I'm just like groggy all the time when I'm out here.

I know.  If you spend enough time talking, you're like jeez, what's going on.  It's brutal sometimes, man.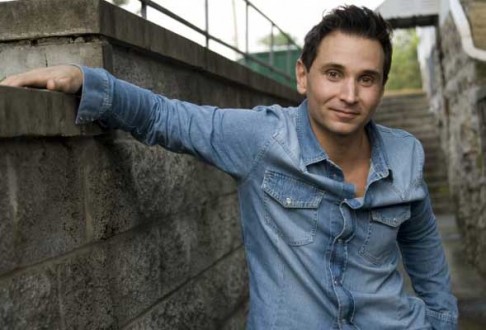 How did you get started?  You said you were in Georgia, right?

Well , I grew up in Kansas.  Was a music theatre major.  I went to Kansas State University and did that there for those 4 years.  And I've kind of always wanted to be in show business.  My father was a singer, my mother's a singer.  I started, when I was a kid, worked at some theme parks, moved on to cruise ships and did some regional theatre.  Finally put my own act together and started doing that on some ships.  And I'm actually getting ready to trying to book it at one of the casinos here in town as well.
So when you first got to New York City how was it?  Were just auditioning, pounding the pavement?

I was actually – l lived there two times.  The first time that I lived there, that's exactly what I did.  I was doing what everybody does when they go to New York.  Just hitting every audition that I could and waiting tables at night and doing it all over the next day. And finally it wore on me, man.  It's a life.  You gotta have a tough skin, you really do.  And I moved out of New York and started doing my own thing, my own show.  Like in clubs across the country and on some cruise ships.  And you know a couple years went by and that's when I made that demo and sent it in to New York.  And so I left New York to get a job on Broadway.
Any roles out there that you'd love to play?

You know this one has been so on my mind since I saw that the show had opened.
Just complete laser focus?

Yeah, it's weird.  You know when I was a kid when of course when Phantom and Les Mis and all that stuff was big you're like oh yeah I'd love to be the Phantom some day.  But now you know, I really don't know.  It's such a tough time for theatre right now.  And this one's doing me good, so I'm not gonna complain about it.
Any advice for people out there who want to pursue a career in theater?

Just like I said tough skin, and keep doing it even when people say no, just believe in yourself and keep going.  Keep going.