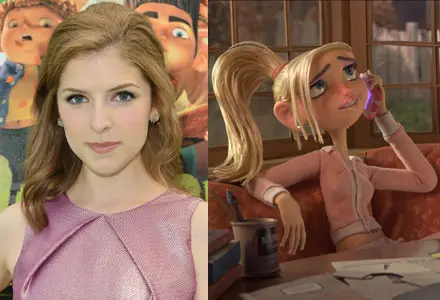 Comic-Con: One of the nice surprises about seeing ParaNorman is how much Anna Kendrick's voice work leads itself to a wonderful animated performance.
Kendrick stars as Courtney, the exasperated sister who sighs so hard sometimes, you can feel it from your theater seat. Courtney is Norman's sister, who has a hard time believing that her little brother can see and talk to dead people. But, when the small town they live in is overrun with zombies and ghosts, she is the first to get behind Norman and his powers.
Kendrick, who was nominated for a Tony Award for the Broadway play High Society at 12 years old, talked to me at a press roundtable at Comic-Con about how nervous she was on her first venture into voice-acting and watching her voice come out of an animated character.
Speaking to you at roundtables and press conferences, it always seems like you're very animated. Was this sort of a natural transition to voice-over work for you?
Anna Kendrick: Yeah, I mean, I was really nervous. I've always wanted to do it and so I jumped at the chance. But I was really nervous going in because I really am not very good at ADR, so… and that's my only experience doing anything like this. But this was so different and so freeing and, like, pure and it really feels like you're doing the purest form of acting. Because you're not worried about, you know, you don't have to be worried about like not leaving frame and, you know, not getting in front of the actor's light. And you're so not bound by, you know, your physicality. It's like it can be a hindrance in live action. And, you know, you get to use all of it to get one thing across in your voice, it's really great.
Is it surprising to see your voice come out of something so different from yourself that looks different and is…?
Anna Kendrick: Yeah, it's definitely weird. I mean, I think because you're obviously so used to your own voice, I watch the movie and every time Courtney speaks I think, "Oh no, that doesn't sound right and everybody must be thinking like that doesn't match up or it doesn't make sense." But, you know, I guess that's just the way you feel when it's your voice.
Do you feel like the expressions that they captured on her face really match up with yours in real life?
Anna Kendrick: I mean, her face is so different from me, it's difficult to say. But I think some of the physicality is there. Like, I realized in the recording sessions I kept kind of falling over. Like, kind of bending at the waist like I was so tired of life being so hard. And I think that a lot of that is kind of in her, that she's constantly kind of so frustrated by how, you know, supposedly difficult her life is that she's almost toppling over.
Yeah. When you got the script and you read it and you did your ADR not knowing how it was eventually going to turn out, any surprises that now that you've seen her speak and seen her move, you know, saying, " I took it vocally one direction and visually they went somewhere different."
Anna Kendrick: Well, one really helpful thing was about halfway through the process, they could show me a scene. It wasn't finished and some of it was still the storyboard, but some of it were almost finished shots. And then all of a sudden I could see, you know, how it was coming together and how I should change my performance. So, you know, there was some things that I did in that first session that ended up in the movie. But then there were things that once I could see how the scene was supposed to go, I could totally see why something needed to feel a different way and it was great. It was like being allowed in the editing booth of a movie and being able to go back and re-shoot things based on that.
Do you think that these kinds of movies, zombies in general, I mean in some women say like, "No, it's really not my bag. Not my thing."
Anna Kendrick: I mean, I'm interested in films in general. Horror is not my love. Like, I have a soft spot for action. I don't have that kind of same soft spot for horror, but I appreciate it. You know, someone was asking me like my favorite zombie movie. And, you know, I like Zombie 2 where it's just like insane and there's, you know, play eyeballs and zombies fighting sharks and… Yeah. Shark trainer in a zombie suit. But still, pretty awesome.
When you do voice-over, is it hard to get into those harrowing situations where you have to be in the horror movie for a moment and scream and freak out?
Anna Kendrick: It was easier to do in animation because, you know, as long as your voice is getting across that you're terrified… because in a… if I were doing a horror film, I would have to be kind of… I couldn't do this thing where I've got my hands in my hair and I'm like twisting my ankles and I look all kind of contorted. You know? I don't think the director would really go for that. You know? You're supposed to look all kinda sleek and sexy and shiny. And it was great to be able to do that for my big epic screaming scenes.
So we shouldn't expect too many behind the scenes photos of you contorted, ankles twisted?
Anna Kendrick: No, I basically make them sign in blood that they couldn't use the footage of me like being animated.