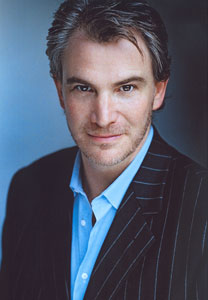 If you wake up one morning and have a sudden feeling of macabre, don't worry because that may just mean that The Addams Family have come to town.
Yes, Gomez, Morticia, Uncle Fester and the rest of the gang are touring the country and as star Douglas Sills told me, the show is a "good 50 percent different" from what is currently on Broadway.
Sills, who plays Gomez, said that the producers recognized the Broadway version needed some changes, so  they added new songs and there's new plot elements that as he says, "give Gomez and Morticia a much stronger storyline." I've heard that this version is far superior and that Sills is fantastic as Gomez – I can't wait to see it personally!
Nominated for a Tony for his performance as The Scarlet Pimpernel, Sills has since then has performed the role in the touring production of that show, performed in regional theater and guest starred on TV shows like CSI and The Closer.
I talked to Douglas as he was getting ready for a performance in Detroit and he couldn't have been nicer. We talked about The Addams Family (2.0), life on the road and what it's like to be nominated for a Tony.
When you're touring, how are your hotel rooms?  What are the accommodations like?
Douglas Sills:  Well, it's not too much about the accommodations for me, it's about concubines.
You know how to negotiate in a contract, I'm sensing.
Douglas Sills:  [laughs]I do, actually, it's my agent.  Hotels are so important and the one here is maybe the most luxurious that we've had, so it's fantastic for us.  And it's really nice when the accommodations are luxurious and plush, or posh, I should say.  It makes a big difference on the stage.  So, it's really great.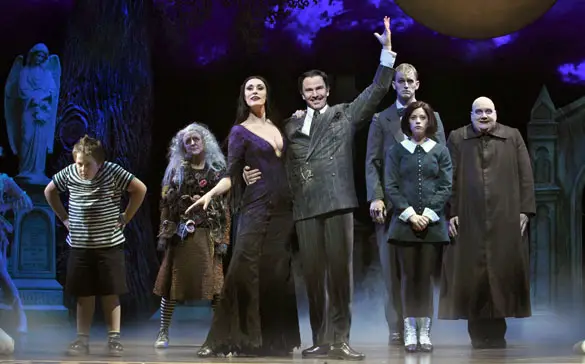 So, let's talk about the show.  I've read where it's a lot different from the Broadway version that's on right now. 
Douglas Sills:  It is a lot different.  You know, this show had its first incarnation in Chicago, pre-Broadway, and after that run, the producers decided to change directions and they hired a new director.  At that time, the Broadway dates were already in place, so the new director only had a limited amount of time to make changes and, you know, in this day and age, the changes can be very far reaching. When you want to even change a scene, you have to bring all the lighting people in who have to change the light with the computers.  It has a lot of ramifications.  So, there were only so many changes they could make.
After watching it on Broadway for a year or two, they dreamt about what they would do if they got another crack at it and that's what the tour became.  It became an opportunity where all the creators came together, including the relatively new – the newer director, who was not new to directing by any means.  And they over that time had formed a real bond of trust and understanding with each other and if they got another crack at it what would they do.  And the reception – it's no secret that the critical reception was mixed.  And I think they felt they knew what to do and when given the opportunity to do the tour, they really went back and redid it from the ground up.
So I would say that the show is a good 50% different.  There is a major plot line change and that lends itself to different songs and different scenes.  So, there is quite a bit different, and what the nature of the change is in the most general language is to refocus the show on Gomez and Morticia.  So, there is a new plot point that gives Gomez and Morticia a much stronger story line and they become the sun around which the rest of the play revolves.
I can say that I think the story line is stronger and move involving and that's a direct result of getting to watch the Broadway version. So it's built on the backs of that show in New York, but I think it is superior and I don't think there's much discussion about that.  In fact, so much so that this is the edition that is going to be published.
Oh wow.
Douglas Sills:  In the future, when you lease or rent The Addams Family, this is what you'll get.  Our songs, our keys, our script, our libretto.
When you get a part like this, where like everybody and their brother has an image in their head of the character, where do you start?  What are the first things you do to bring your Gomez to life?
Douglas Sills:  Yeah, my first impulse is to look at it the way I sort of look at life and that goes from everything to religion to buying stock.  Whichever way the crowd is going, figure you should probably be walking in the reverse direction.
So, the fact that everyone has expectations, my first job was to forget about that.  If you were to go down that road and you were able to make one or two people happy, you're going to make ten other people unhappy.  There is no good result from that route.  So, my job was to forget about the expectations and make a character that lived and breathed and seemed to be created in three dimensions.
So, I did not go back to watch the television show and I had never seen the movies.  I looked at the cartoons at length.  I read the script and treated the script as I would any play.  What are the givens?  What is this character about? What is important to him?  What is he afraid of happening to him?  What does he most dream of happening to him in his wildest imagination?  And treated it like I would treat a Checkov play or a Sam Shepard play.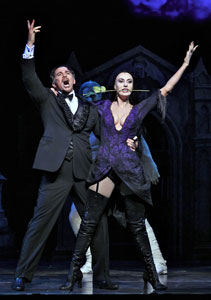 Then, I with the director, sort of changed the shade of the paint I'm using to accommodate the aesthetic that they're drawing the play in.  So, rather than painting it in browns and rust color, the way I might paint a Sam Shepard play, here we might use more poster paint colors. Because, you know, my graduate school training was much more in classical theater and that's sort of how I approach everything.
I didn't really concern myself too much with people's expectations.  I felt that if I loved the character, rather than judged him, and if I portrayed him, capturing the essence of his 'joie de vivre' and what people were so attracted to, that there wouldn't be a reward in that.
It's not just enough that it's realistic and three dimensional but it has to be interesting.  Those are your two obligations, I think, as an artist and as a performer, to be both honest and interesting, and one without the other is, well, I guess it's sort of like one hand clapping, sort of pointless.  So, that's sort of my approach and I didn't worry too much about the expectation.  I let the creators worry about the expectations.  I let everything that is macabre and interesting about the Addams Family speaks for itself.  I didn't need to be spooky or weird because the environment is already spooky and weird.  And then, I find that if you're trying to do that, it's sort of what I would call a 'hat on a hat.'  You're double gesturing.  If the house is already spooky and dark, you don't need to be, you know, Count Dracula.  So, I sort of approached it the way I would have approached any other character and then just fine tuned it with the director.
When you're on tour, I imagine it takes more of a toll on your voice than staying at home and doing a show.  How do you combat that toll?  Do you take any special precautions?  Drink tea?
Douglas Sills:  It does take its toll.  Particularly in relation to the travel on the day off, so even on the day of rest, you're traveling.  The change in humidity is a big deal and the change in the nature of the sound in each venue forces you or suggests that you should push harder sometimes, when you can't hear yourself the same way you did the previous week.  And there's new people in each city, new stage hands, new everybody.  So, there's fresh bacteria in every city. [laughs]So, yeah, it's very dangerous.
And once you get sick or you have a problem with a chord, there's no time to rest.  The only way to combat it is preventative.  Once it's already taken hold, the best thing to do is take off as quickly as you can so you're not doing more damage and extend the absence even longer.
It is challenging. It depends on how challenging the role is in terms of what comes naturally to the middle of your voice.  In other words, are there really high notes?  Are there really loud sections?  Is it a character who shouts quite a bit?  And then you cope with it accordingly.  You have to have a sense on what the demands on the role are.  And, what your personal vulnerabilities are.  You have to stay aware of your body.
You're absolutely right.  It's an astute observation and you have to be extremely vigilant.  Especially me, because I carry a lot of the show and my part is very demanding.  I'm on three quarters of the time and more difficult to replace.  I'm also above the title.  If I'm out, people are allowed to ask for their money back.
When you're doing a show in general, eight shows a week, everything is just revolving around your condition to do the show.  When you eat, what you eat, it's all part of it.  So, your questions are actually – and it is a difficult life, but the rewards are just indescribable.
I know you were nominated for a Tony for The Scarlet Pimpernel.
Douglas Sills:  Yeah, that cost me a fortune.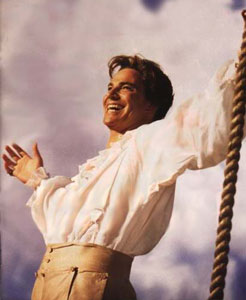 When you're nominated, until the time of the show, what's that month like for you?  Can you get the best tables in New York?  Are you just like the 'Man-About-Town'? 
Douglas Sills:  [laughs]It is fun.  It's a lot of fun.  But, the truth is, unlike being in a movie that gets nominated, you're still doing your work eight times a week.  And, you better be doing your best work because all the voters are going to start coming.  So, if anything, you're exhausted from doing such a great job that you got nominated.  But then you have to double your efforts to make sure every show is fantastic because that's when all the voters start coming.  That's when you start doing press for the show because of the Tony nomination.  It's actually – all the work becomes 10 times harder.
I didn't think about that.  Yeah.
Douglas Sills:  It just gets much more pronounced and even more difficult.  That's my memory.  Exhaustion is actually my memory because you're vocally exhausted and you still have to do these appearances for press.  You might have to get up at four in the morning to do the CBS Morning Show.  You can't turn that down.  You're talking about millions of viewers.  And then you have to go do your show at night and you've got to be fantastic.  And then, if you've got a family life, it's very, very, very demanding.  I think that's why you see when some people, young people, get a lot of acclaim for something, they may fall apart.  That's where drugs come into the picture and they just get wasted and they can't take the pressure.  It's a lot.  It can be a great deal for one person.  Yeah.
What's your advice to actors?
Douglas Sills:  You know I do this a lot for people.  I would probably ask a bunch of questions about what their experience is.  You know, how far along in their life and career they are and what their desires are?  Then I would tailor my answer to that in a general to what they want.
But, I would say my advice to actors is, first and foremost, the thing to cultivate is your own desire.  If you have a fierce muscular desire, the rest will fall into place, one way or the other for you.
Next, I would say there is no one way to skin the cat.  It's not a route.  It's not a street towards some destination.  The image that I would give them is much more of an open field and somewhere on the other side of the open field is paying work and a successful reputable career. You can get across that field in a thousand million ways.
And so, just because your friends are all going to a musical theater program at a college, certainly doesn't mean that's the only way to get there.  If you want to go in the Peace Corps for two years, and then come back to it, or you want to sell real estate or you have a baby and you have to earn some money by selling mortgages for the first year or two, or five years, or whatever.  You need to take a break in the middle.  There's nothing that says that's not okay.
In fact, I would say the opposite.  What I see a lot are actors who lack interesting life experience.  They've spent so much time studying theater, movies and other actors, in class with other actors, that they don't' have a lot of life experience to draw from and it makes their work authentic and unique.  That's a real liability.  You're much more liable to bring something interesting to the table if you have a real life that you're really involved with.  If that means taking care of your elderly parents as they pass or donating time at the humane society, whatever it is, something authentic, that speaks about you and views your take on life other than doing impressions of other performers doing roles.  So, rather than thinking of the movie of Oklahoma, because you've studied it and have seen six versions of it, you're much better off being somebody who has worked as a dock worker and understand what real labor is from morning to night, that really doesn't have anything to do with show business itself.  Those would be some of the most important things that I would tell an actor depending on what their interests were and what their goals were.