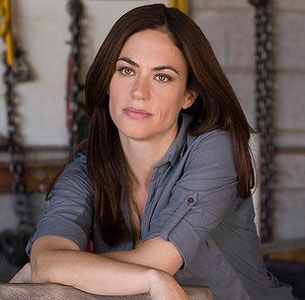 Comic-Con: Maggie Siff stars as fan favorite Tara Knowles on the hit FX show, Sons of Anarchy and as she said in the video below, she is always a bit surprised to hear that. "I think of it as being a show about the guys," she says.
That definitely says something about Siff and her work. Besides Sons, Siff was on the first season of Mad Men, appeared in Judd Apatow's Funny People and, theater wise, has had roles at New York's Public Theater and Playwright's Horizon and was most recently in the title role at the Geffen in the world premiere of Jane Anderson's The Escort.
In the interview, she talks about Tara, the most difficult things she's had to do during her time on the show and if she prepares for each episode the same way she did her first season.
Check out the video below!